by Savannah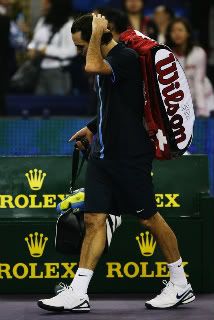 The ATP is holding it's season ending tournament in Shanghai China. Due to injury the Number One player in the world was not able to attend. The Number Two player in the world, bad back and all hobbled in. Three newbies to the post season event also showed up. And yet the Round Robin portion of this tournament will be remembered for two matches.
Novak Djokovic
played
Jo-Wilfried Tsonga
in another rematch of the Australian Open final to close out play in the Gold Group. On the line for Djokovic if he won was the possibility of taking the Number 2 ranking away from Roger Federer. He came out strong and easily won the first set over an overwhelmed Tsonga. Tsonga revived himself and pulled out the second set 7-5 setting up what should have been a very interesting third set. Instead in one of the most remarkable for it's arrogance and disrespect to my eyes Djokovic tanked the third set. He did enough to avoid the bagel but handed the set to Jo 6-1. I'm saying that to my eyes Novak tanked the set. Somewhere a fan of his probably thinks that his lack of enthusiasm was a good tactical move but a tank is a tank. Why come all the way to Shanghai and show your ass to the sport that has given you a very nice life style thank you very much? Why disrespect a peer by in effect saying "I don't need this but you do. Take the bone I'm giving you"? This is not what a man aspiring to be the best in his sport should be doing in a tournament that is supposed to showcase the best of men's tennis. Disgraceful is the nicest thing I can say about Djokovic's performance.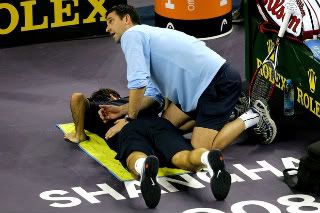 On the complete opposite end of the spectrum was the match between
Andy Murray
and
Roger Federer
. Roger needed the win to move into the single elimination phase of the tournament - the semi finals. Murray was already in and one could be excused for thinking that he may not play the way he has been in this rematch of the US Open finalists. Instead the two men played what will be ranked as one of the best matches of the year. Federer routined the first set but it looked as if Roger's back problems would take their toll and the number one seed would fall in straights when Andy went up 5-2 in the second. It can't be emphasized how much tennis is played between the ears as well as on the court. Andy fought back and won the second set in a tiebreaker 7-3 to force a third set. At one point Roger sat down on one of the lines people's boxes and it looked as if he were going to throw in the towel. Instead he got treatment on his lower back between games. Murray went up 3-0 and looked to be cruising again and again Roger came back. In what will go down as one of the most exciting games this year Murray was up 4-5 and Roger was fighting for his life. And fight he did. Federer staved off a total of seven match points. Both men along the way played fabulous tennis making shots and matching wits in play that kept you on the edge of your seat. In the end Roger prevailed and leveled the set at five all. At that point I thought we'd see a tiebreaker to decide the match but instead Murray held serve and won the match by taking the last set 7-5. The Chinese, major Federer fans, gave an underwhelming response to Murray's win. I'm sure
Gilles Simon
, who is in the semi finals because of Federer's loss, responded much differently.
I'll say it again. This is what end of year play is supposed to be about. Federer, who has nothing to prove except to himself could've just said screw it and gone home to rest for 2009. Murray could've decided to let Roger win and save his energy for tomorrow. Instead both men remained true to themselves and to their sport and played a match that will be talked about in superlatives for a long time. Djokovic's match did nothing but leave a bad taste in tennisheads mouths.
Congratulations to Andy Murray for making the semi finals. Congratulations to Roger Federer for showing what a tennis champion is made of. I may not be a fan of either man but I'm a fan of tennis. Tennis was done proud today.