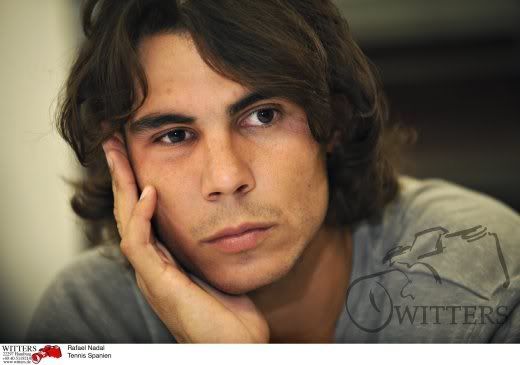 by Savannah
I'm late with this so I'm sure by now everyone knows
Rafael Nadal
withdrew from the TMC Shanghai earlier today. Here is his official statement
In Full
.
Dear fans and media reps,

It has been a long and difficult year where I managed to obtain great results, both on a professional and on a personal level. I have mentioned on various occasions that the tennis calendar has been extremely hard with practically all weeks playing and where it forces players to compete week in week out, making it impossible for a top level player to be 100% on each event.

On a personal level I had as one of my goals to become #1 during this year and competing at so many events might have harmed, specially at the end of the season, my physical condition, taking away the freshness needed to play at the top level of the game on these last events. I don´t know if this has been a mistake or not but the fact is that with the goal achieved I also have to take one of the most difficult and painful decisions.

I have decided not to compete on the Masters Cup in Shanghai. As I say this is one of the most difficult decisions in my career due to the importance of the event and above all, due to the fact of not making possible my will to be with the fans in China and the tournament organizers that always treated me in such special way.

I am deeply sadden and disappointed for my fans around the world that expected to see me in Shanghai fighting in every match. I do expect to be there again in October 09 for the ATP Masters 1000 event in Shanghai.

I know that many people where speculating with this news and even though I have yet not done any test, I can say I take the right decision. I want to recover and be ready for the important Davis Cup final with my country that will be played in Mar del Plata, Argentina. That is also another reason for not coming to Shanghai.

Many thanks to all for your support and understanding.

Rafa
Right choice as far as I'm concerned. There are people who look for any excuse to tear this man down and I'm sure they'll do so. What they should not forget is that this was an Olympic Year and most of the top players played one extra event. It won't make any difference to them but it is what it is.
And for those who think he's faking I have one word for you: Chennai. Try to watch it sometime. This man doesn't quit unless he has to.
As a result of Rafa's withdrawal there are three newbies in the TMC singles field.
Federer, Roger SUI
Djokovic, Novak SRB
Murray, Andy GBR
Davydenko, Nikolay RUS
Roddick, Andy USA
Tsonga, Jo-Wilfried FRA
del Potro, Juan Martin ARG
Simon, Gilles FRA
Let's see if the groups end up like this. This is my speculation alone okay?
Group A
Federer
Davydenko
Roddick
Djokovic
Group B
Tsonga
Del Potro
Simon
Murray
Just sayin'. By the way with Simon in Blake becomes the number one alternate. I believe that means he has to be in Shanghai.