by Savannah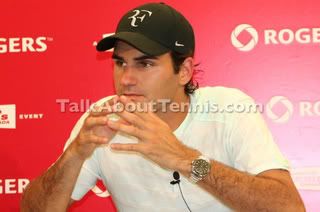 As a follow up to Craig's report on last night's match the good people over at
TalkAboutTennis
have posted a transcript of
Roger's Post Match Interview
Interesting reading for Roger's fans. Among the comments Roger made is the following:
Only really three, four days of practice since Wimbledon. It's not an excuse in any way, but I'm going to get some practice in.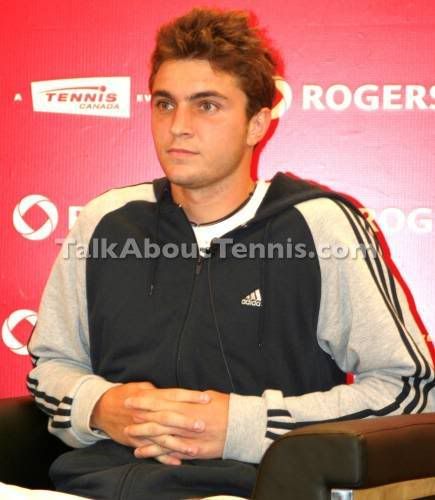 By the way
Gilles Simon's
post match interview transcript is also available.
Thanks to Talk About Tennis' woman on site Mariya Konovalova for the pictures and posting the transcripts from ASAP Sports. There is also audio of the post match interviews available on the site for fans enjoyment.
I hope fans don't get down on
Marat Safin
. He played two matches yesterday. He won the first and lost the second. Rain delays haven't wreaked havoc but have caused problems. One fan asked why American tournaments don't have covers on their courts and I have to say it's a good question. Maybe someone gets pleasure out of seeing ball kids wiping up the courts after a good rain but it is kind of retro. That air pressure thingy they use at Wimbledon seems like it would be the answer to a lot of problems caused by late summer weather in the United States.
The WTA
There are two women's events this week. One is the
Slovenia Open
, a Tier IV, being played in Portoroz, Slovenia. The other is the
East West Bank Classic
a Tier II event that is taking place in Los Angeles. Serena Williams, who played hurt last week in Stanford, didn't take the court this week, a wise move on her part with the Olympics and the US Open coming up. That leaves
Jelena Jankovic
in the position of possibly claiming the number one spot without having won a Slam.
Kim Clijsters
and
Amelie Mauresmo
attained the number one ranking under similar circumstances.

The 800lb Gorilla in the Room
This of course refers to the trial being held in the United States between the German and Arab organizers of the Hamburg Masters and the ATP headed by Etienne de Villiers. That this trial promises to air a lot of dirty laundry as well as have repercussions beyond tennis is an understatement. So far the following has been made public.
The executive chairman of the ATP, Étienne de Villiers, and his general counsel warned executives at the sports marketing giant IMG that their business would suffer if they testified against the ATP in an antitrust lawsuit, according to a letter written by IMG's senior counsel.

IMG, a pioneer in sports management, took the threat seriously and will not make its employees available to testify in the $77 million lawsuit that begins Monday in United States District Court in Wilmington, Del.

The transcript of the hearing, however, indicated that lawyers for the organizers of the tournament in Hamburg, Germany, a clay-court event which is to be downgraded from the top tier of tournaments for 2009, contend that the Germans were victims of a pay-for-play conspiracy. MacGill said he would present evidence that organizers of the Shanghai tournament paid the ATP $29 million to be upgraded to a premier event, according to the transcript. ATP officials then offered Hamburg organizers $4 million to $8 million to accept its demotion.
For the complete article please go
Here
From
Bloomberg News
comes the following:
ATP directors voted to approve the Brave New World plan after a series of backdoor deals that transferred Hamburg's membership rights to Shanghai and gave Madrid Hamburg's current tournament slot, MacGill said. ATP, motivated by money, was paid more than $29 million by Shanghai and about $32 million by people in London who bought Shanghai's rights to the Tennis Masters Cup in 2009, MacGill told jurors.

The restructuring plan was approved amid objections from 20 European tournament directors in January 2007. The top 20 men's tennis players also objected once the plan was announced in March 2007, MacGill said.
The only thing missing are horse heads in people's beds. I will keep you updated. I still wonder why the women haven't protested Roadkill as loudly and vociferously as the men have Brave New World.
End Notes
From
Tennis Week
Babolat
has put out a series of racquest for the junior player. Their name? Nadal Junior.
The folks at Tennis Week are running a poll where tennisheads get to vote for who they think the best television analyst is. The choices?
JMac
,
Brad Gilbert
,
PMac
and
Darren Cahill
. They can't be serious can they?
I get on JMac's case a lot but when he's right he's right. And on the subject of player development in the United States John McEnroe is right. As I type this
Andy Roddick
has crashed out of Toronto after showing an inability to think his way out of the box his style of tennis has created for him. The hype machine was saying that Andy would reclaim his rightful position at Wimbledon. Now all hopes ride on the US Open. Coming as it does after the Olympics which Roddick will not be attending it can be said that he will have an edge over players who have made the long trek to Beijing and back to New York.
But Roddick was out thought by
Marin Cilic
today and it was obvious he had no answer for the young Croatian. John McEnroe has long been a critic of the United States tennis establishment and has lately been taking it to task for it's failure to develop any players able to step onto the world stage as fully developed players able to play all surfaces, construct intelligent points and, when Plan A fails have a Plan B. His brother Patrick was recently appointed General Manager USTA Elite Player Development but John asks where the funds have gone that were supposedly dedicated to this already.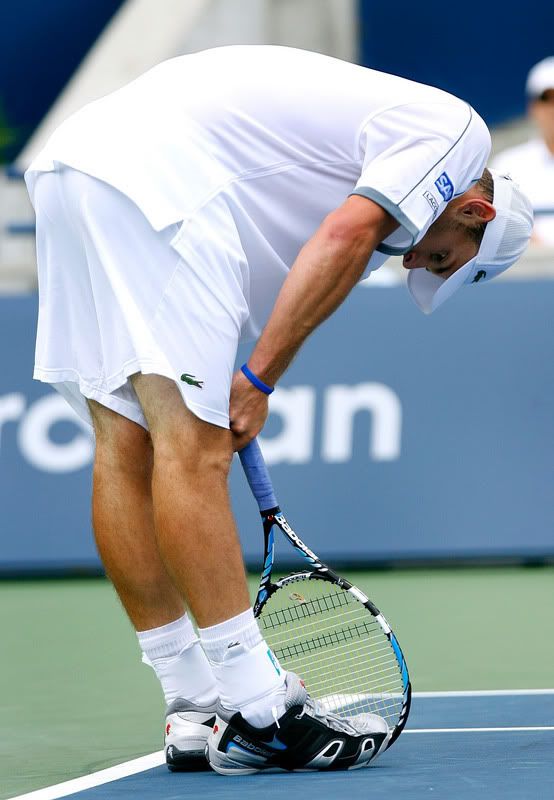 I remember when, as a newbie on tennis fan boards five years ago American fans were laughing at the then new Spanish program for player development and saying that creating an atmosphere where each player was treated as an individual as well as part of Team Spain would create a bunch of wusses unable to compete against the take no prisoners attitude of the Americans and Australians. No one is saying that now. When
Venus
and
Serena
say "no mas" and get on with their lives who is going to take their place?
Maria Sharapova
, the quintessential "American Girl" plays Davis Cup for Russia. The current women's number one is from Serbia as is the number two ranked woman.
I don't think it's too soon for American tennis fans to panic. The people who are paid to do that seem to have dropped the ball. Instead of player development the tennis establishment in the States was looking for Brave New World to rearrange the deck chairs and downgrade the favored world wide surface - clay - in favor of playing on concrete ignoring the fact that the game has changed and is now won between the ears as well as between the lines. Brute strength alone won't win the majors.
The British just got a new citizen, all of fourteen, to brighten their prospects on the women's side. They tried to get Novak Djokovic a few years ago. So far the United States has not gone that route. It's going to be a very difficult couple of years for American tennis.