by Savannah
Time Magazine's Sports Picture of the Year
Time Magazine chose only two sports pictures for it's year end photo album. This is one of them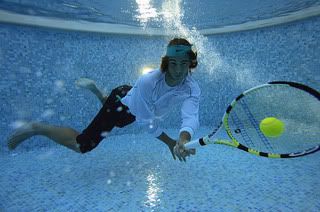 Vamos Rafa!
Whose "Vicht" Is It?
Hewitt trademark salute row
THE player who introduced the famous "vicht" salute to world tennis is outraged Lleyton Hewitt has adopted the trademark and stands to make millions.
The former Wimbledon champion is understood to have bought the rights to the distinctive celebratory gesture after former Swedish pro Niclas Kroon inadvertently let it lapse.



Kroon, 41, who held the rights along with former world No. 1 Mats Wilander from 1988, often used the signal whenever they won a point or game.



Broadly meaning "for sure", it is now widely used by athletes from other sports, including swimmer Grant Hackett and Crows defender Andrew McLeod.

"I wish he had called me first," Kroon said from his home in Houston, Texas.

"I don't know what to say. You get to a certain age and you realise people are f***ing other people all the time.

"It's all about business and making money. I'm so sick and tired of sh** like that.

"I know that he's surrounded by people who are probably going to make money from this.

"The thing about using the word "mate" in Australia . . . it probably doesn't sound so good anymore."
I still think this should be in the category of "faux" news but whatever. Maybe the Aussies can cut a deal with Mats and his boy and all this will go away no?
Much Ado About Vicht
Serena Update
Serena is going to play on Monday December 31 against
Lucie Safarova
of the Czech Republic. I normally support Serena here and have always taken her side against the "haters" but a few days ago, when fans first started speculating as to whether or not she would even play Hopman Cup there were press statements that she would indeed play. Now we hear that she's either in bed with a cold or suffering the effects of the knee injury that plagued her the second half of 2007. Another one of my mother's sayings was "let your word be your bond".
Serena's name was published on the guest list for Jay-z's Las Vegas bash back in October. Whether she shows up there or not it gives the anti Williams forces more fuel to throw on the fire. Using
Sharapova
like reasons for not making it to Perth (remember when Maria withdrew twenty minutes before a match with either a shin or calf injury?) will not make her fans task easier.
Whatever the situation Serena the major goal is still defense of your title starting January 14.
More Favorite Pics from 2007
Sania Mirza
Goran Ivanisevic
Andy Roddick
Justine Henin
Roger Federer
Fernando Gonzalez
Serena Williams
Fillipo Volandri
Maria and LeBron
Anna Chakvetadze
Jelena and Mom
Venus Williams