by Savannah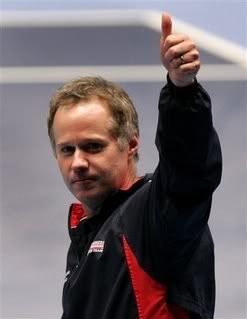 As 2007 winds down and
Hopman Cup
play starts in a few days let's see what's going on around the world.
The head of the ATP,
Etienne de Villiers
, in his year end interview states the following:
I'd rather be in tennis than football, I'd rather be in tennis than cycling, I'd rather be in tennis than track and field [athletics], I'd rather be in tennis than baseball," De Villiers, 57, said this weekend. "Of course there are issues, but the people in our sport, especially our players, are saying, 'Let's do the right thing here.' We need to know where and how our information-gathering systems need resources because it is up-to-date information that drives everything.
He will not attend the Australian Open, opting to stay in London to put the finishing touches on the new Integrity Unit "that he intends will shape the sport's response should further evidence of improper activity require action. He is canvassing

as many as he trusts

to make the proper appointments."(emphasis mine) He goes on to say that he has nothing new to say to the players in Australia and that being there just to be there is counterproductive.
DeVilliers states that the Olympics this year is what led to 56 man draws and best of three matches in the big events. This is so the players can "listen to their bodies and schedule their year with greater thought than before."
De Villiers is also fan focused. American fans are credited with being aware that tennis is an international sport and that they want to see it presented as such.
The ATP presents the following statistics for 2007:
9 Masters Series tournaments played in 2007 by all four top players, the first time they have appeared in each event since 2001.
27 Percentage of player withdrawals on the ATP Tour in 2007 – a six-year low.
29 million The amount (in pounds) that the Italian federation has spent on upgrading the Foro Italico in Rome for the 2009 season.
50 The number of €5 (about £3.60) bets that Daniele Bracciali was found to have placed on matches. The Italian was fined £14,300 and suspended for three months.
100 million The money (in dollars) to be spent on facilities, promotions, prize-money and more in 2009 – the biggest investment in ATP history.
For the entire article please go here
ATP 2007 Year in Review
As for the WTA this appeared online at
Tennis X
. It was written by
Joel Drucker.
Sharapova

had the bloody tar beaten out of her by Serena in Australia and Venus at Wimbledon. Struggling with an injury that impeded her serve all year, she was unable to dictate enough points. Only a fine effort to each the finals of the Sony Ericsson WTA Tour Championships in Madrid — where she lost the best women's match of the year to

Henin

— gave her a sense of significant accomplishment in 2007. At the same time, while I deeply respect Sharapova's tenacity and commitment, I fear she could well be a female

Andy Roddick

: a gritty fighter with limited hardware.

Here's where we enter the news-you-can-use zone. Both the Williams sisters and Sharapova were exposed to tennis by zealous fathers. Sadly, the outcome of that model — rather than the process — has been taken as gospel by a great many tennis instructors. What I'm talking about here is the unwitting, co-dependent collaboration of a gung-ho father and hot-to-trot instructor mostly teaching young ladies how to rip the ball again and again. Yes, I know that repetition is a vital factor in mastering a technique. But it is only one factor.

The trouble occurs when repetition becomes less a means than an ends. The man who most ardently shaped Sharapova's strokes, the great coach

Robert Lansdorp

, once asked me, "Who gives a blankety-blank about strategy? Just hit the ball." With all due respect to a coach I think has a certain kind of genius, I would heartily disagree. Surely a baseball player is aided when he knows a pitcher can't throw a good curveball. Ditto for a basketball player who knows the man he's guarding prefers driving to his left. And so on.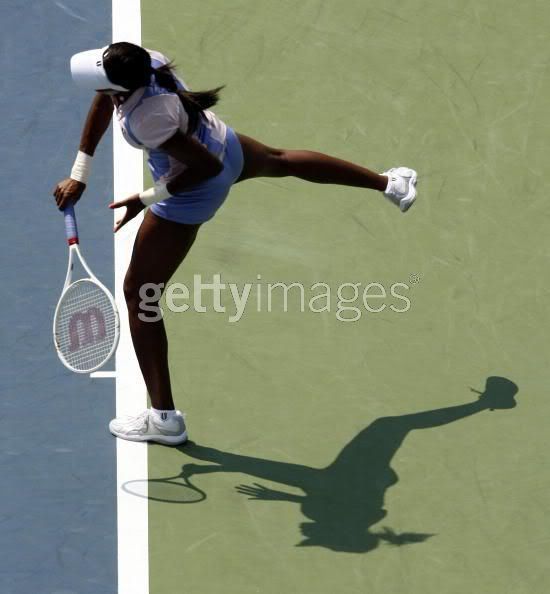 John Newcombe Rips Guccione A New One
This quote is one I'm sure "Gooch" will make part of his tennis scrapbook.
"He can't move left and right," Newcombe said. "It was a bit embarrassing.

"Soon as he got in a rally that went over four or five shots...forget it."

Newcombe said he had approached Guccione and John Fitzgerald - Newcombe's successor as Davis Cup captain - about the issue of working on Guccione's fitness.

"But it's not happening," Newcombe said.

"So why would you support Chris if he's not giving it back?

"He's been in the Davis Cup squads. I look at him and I see a kid who's 6'5, 6'6 and boy you better be f***king fit and strong in the stomach muscles and leg muscles.

"Now, I know he had a couple of injuries, so I'm not speaking like I know the inside situation.

"(But) if I was in charge of Chris, I would take him off the circuit for two months and I'd get the best athletic trainer I could find and teach him how to run and move and to build his stomach muscles and his leg muscles up so that he's got lateral movement."
Tell us how you really feel John. For more of John's views on Chris and Tennis Australia in general go
Here
Australian Open News

Dominik Hrbaty
will miss his first Grand Slam in eleven years due to shoulder surgery. He had surgery in September but he is still having problems.
Hrbaty To Miss Australian Open
Tennis fashionista's quietly rejoiced at the news...
Samantha Stosur
has withdrawn from both the Gold Coast event and the Australian Open due lingering effects of viral meningits which she contracted over the summer. This, coupled with an unknown virus made Stosur unable to compete most of the second half of the season. Stosur, who has been back in training for the last three weeks says she is simply not ready for her home Slam.
Stosur Out of Oz Open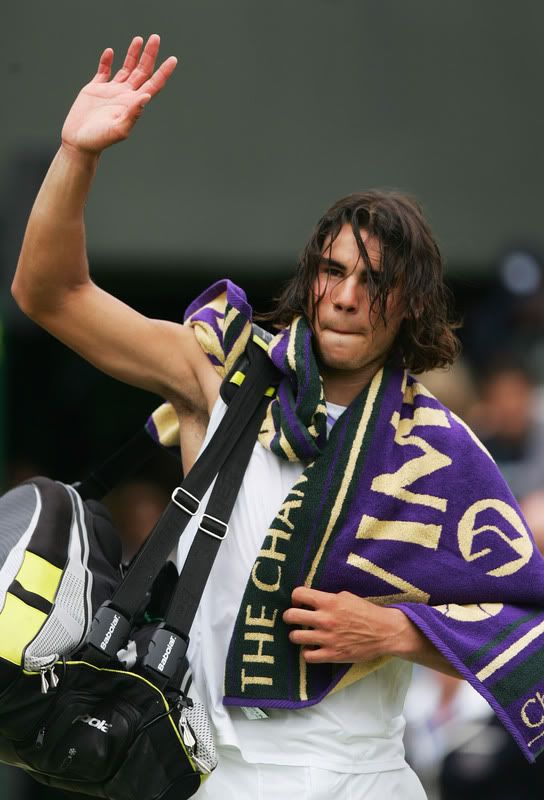 C'mon Lleyton
In the category of you've got to be shitting me is this story.
It's official. Tennis star Lleyton Hewitt is trademarking his "C'mon" celebration and is going into business.

On the eve of his thrust at an elusive Australian Open title, Hewitt and his management have developed a logo representing the hand signal and traditional affirmation seen on the tennis courts of the world for the past decade, and expect to see it bob up on a clothing range before too long.

Hewitt's Melbourne-based manager, David Drysdale, said yesterday the logo had been submitted for trademarking.

Hewitt told Australian Tennis magazine recently he had been considering the idea for a while. "It's funny — I walk down the street and everybody says, 'C'mon'," he said.

"They copy me for doing my signal. I'm not quite sure how to describe that signal, there's no real word for it. So we've trademarked 'C'mon'. We're going to try and push that as much as possible as my brand, and get it out there in the marketplace, make shirts for kids, golf shirts and different kinds of stuff like cargo shorts."

Lleyton's Trademark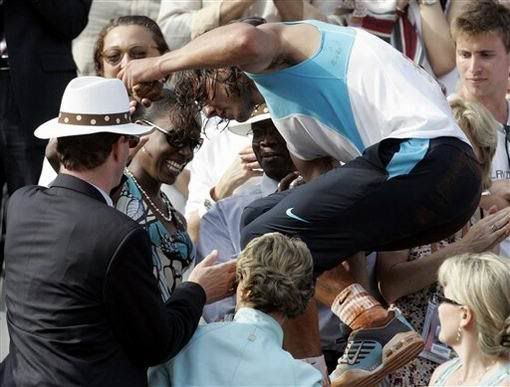 Random News
Sesil Karatantcheva
, who was banned two years ago when she was fifteen after testing postitive for performance enhancing drugs (She blamed the positive test on a pregnancy which was aborted. This led to more speculation that she was subjected to a form of old school blood doping that was once practiced in the former Eastern Bloc countries but we won't get into all of that because it's just too icky) will soon be back on the tour. Her ban ends January 1, 2008. Now if those soft porn pics taken of her when she was still sixteen or so can go away maybe tennisheads will be able to judge her based on her tennis and not on male hormonal reaction...
A big shout out to
James Blake
, his brother
Thomas Blake
, and thier family for their continued support of the program that propelled the Blake brothers into the world of professional tennis. The
Harlem Junior Tennis
program run by
Katrina Adams
, has been in existence for 35 years. Originally aimed at youngsters from Harlem it now draws children from all over the tri state area. Their benefit was held this past weekend at the renovated Harlem Regiment Armory and was a well attended and enjoyable event. Please visit
TAT
for coverage of this event.
Also on TAT is a report on what tennis players are doing in the Peachtree State of Georgia to promote tennis. Present for the young fans were
Andy Roddick
,
Sam Querrey
,
John Isner
, and Atlanta area natives
Robby Ginepri, Scoville Jenkins, Ashley Harkleroad,
and
Melanie Oudin
.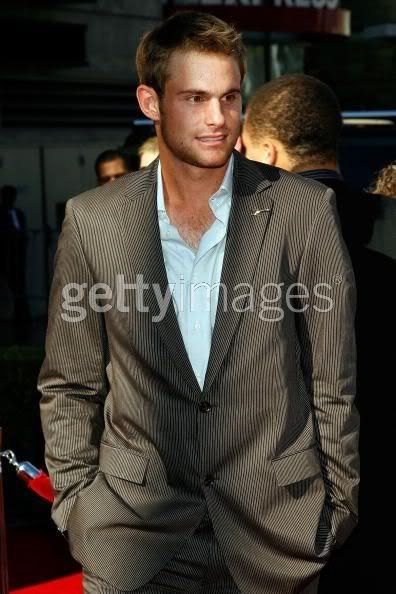 More Pics from 2007