by Savannah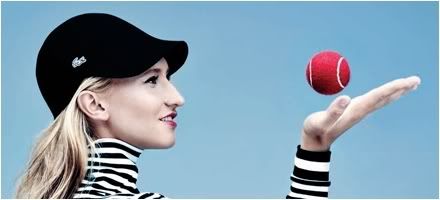 Tatiana Golovin
The World of Tennis Argentine Style
Twelve of the top Argentine players give their perspectives on tennis in a new book. Excerpts are below.

Says Gaston Gaudio: "For a tennis player, family is the worst to have." For Jose Acasuso: "Tennis is an ambience of egoism and much jealousy." Juan Monaco continues: "You always hope that something happens to your rival, even if it were your friend or the one that you shared a room with the night before."

The book of journalists Ignacio Uzquiza and Fernando Bianculli consists of a series of interviews with Jose Acasuso, Agustin Calleri, Guillermo Cana, Guillermo Coria, Juan Ignacio Chela, David Nalbandian, Juan Martin Del Potro, Gaston Gaudio, Juan Monaco, Mariano Puerta, Martin Vasallo Arguello y Mariano Zabaleta.

"If the books serve to illuminate,

La Legion habla

enlightens one about the most valuable surface (aspect) of tennis: the experience of the players. I have read practically every book regarding the theme: some seemed good, others not as good, and the rest not worth anything. The value of La Legion habla resides in the WORD of the players. They tell their stories, offer up their opinions, transmit to us their (life) experience," opinions

Guillermo Vilas,

author of the prologue.

As Vilas indicates the book tries to show, from the mouth of the protagonists, that tennis isn't just prestige, fame and money. It is also egoism, extreme competition and almost constant loneliness.

These 12 Argentine tennis players leave no theme without discussion and also expound upon their visions of the work of the Argentine Tennis Association and the conclusions that came about following the series of Argentines sanctioned in doping cases.

The following is a selection of some of the most compelling fragments from the interviews.

"What is tennis?" Its my way of life, my job, even though I have had the privilege of doing so because I like it. When I had to leave school to dedicate myself fully to tennis I began to take it more as a job than as a pleasure. With time I came to believe, that even if i like it, I am not passionate about the tennis."

(Jose Acasuso)



"Did the Association give you a hand when you were an amateur?" In this moment, no. To the contrary. The boys from the Interior (of Argentina) have always been treated with prejudice. This (current) leadership, I don't know how it treats them because since I have been with Morea I have not been an amateur so I have not really been involved, but I can assure you that it used to be that the boys from the Interior were always screwed (treated like shite.)

(Agustin Calleri)



"Is the ATP discriminatory?" Its discrimination from an economic standpoint, like any multinational corporation. Its just another of millions that there are in the world. Point being that I accept it, but I'm not buying into it that it is a group of players that decide (players union) because it isn't like that.

(Guillermo Cañas)



"What are the pros and cons of being a professional tennis player?" "The main con is the falseness of your surroundings, not just from the players, but from everyone. In tennis, it's very normal to go from being the worst to the best and vice versa. In Argentina you're either God or you don't exist. When you're doing well, everyone surrounds you, and if you don't get the results, you're left all alone, or in other words, surrounded by the people who really care about you. That's why sometimes I may have been aloof or conceited because I never let anyone enter my circle of trust. You know how it goes and that there are heaps of people who latch on to you during the good times and then disappear".

(Guillermo Coria)



"Is the Davis Cup one of your goals?" "Yes, for me, yes, it's one of my goals. But, I mean, there are lots of things...you might go and play Davis Cup and earn 10 000 dollars and you go to a tournament and earn 50 000, that's why it's difficult and I understand those who refuse to play a tie. I understand them and I have also sometimes said no. People don't see that side; you say no and they accuse you of not playing for your country. I have put aside a lot of things for the Davis Cup and nobody knows that. When I played in Canada with el Gordo (Agustin) Calleri, several guys had said no, and we weren't even in the World Group. I lost money for playing that tie because we didn't earn a cent in prize money and I travelled with my coach and had to pay for everything - his hotel, his fare. I remember that the captain at the time, Franco Davin, had to pay the meals with his own credit card. There are heaps of cases like this. I was always the alternate and I never complained. Another time, I was on my way to Punta del Este and they paged me at the airport because Cañas had got injured. And then I refused the call-up to play in Belarus because the clay season was approaching and it was just one week before, and they killed me!"

(Juan Ignacio Chela)



"At one point you said you felt like giving up. Why?" "Because there started to be pressure, sponsors; I was 16 and people considered me to be a rising star, they started talking about me and that scared me a bit. Giving up school was also quite hard for me because I started to miss my friends, and the long trips made me miss my family a lot, we only spoke once a week. So I started to think: "What am I doing distancing myself from everything I love at such a young age?" and I stopped playing for a month. But that period made me realise that tennis was for me and that, since I had the opportunities, I couldn't waste them."

(Juan Martin Del Potro)



"Are there schools of ideology in tennis like there is in football, for example?" "I, in particular, am of an ideology which I'm not sure is good for tennis. In footballers terms, it's closer to Menottism than Bilardism. (Menotti, the beautiful game and Bilardo played a more structured and pragmatic style for the non football lovers in here.)

When Nadal beat Federer in the 2006 Roland Garros final, he said later in the press conference: "I didn't play well but I knew that if I was courageous and strong, I could win." I don't believe in that, and it's bad. But it's an ideology that is so deep within me that I can't get rid of it. It's even a point of permanent discussion with my coach. He says to me: "there'll be thousands of times you won't play well" and now, after a ten year career, I realise I probably played well ten times in my whole life."

(Gaston Gaudio)



"Did you ever have to share a room with someone you had to play against the next day?" "At a professional level, no, we each have our own room. But at a Challegers and Futures level, I often had to sleep in the same room as the guy I had to play against the next day. I wanted to kill him! It's a really weird feeling because, if nothing else, you think: "I hope this kid sleeps badly so I have more chances of winning". And you think that even if they're your friend. You always hope something happens to the other person".

(Juan Monaco)



"There is often criticism towards you because of your approach to tennis: always professional but perhaps a bit too relaxed". "I live life. I think that helps but anyway, there are people who don't think so..."

(David Nalbandian)



"Why did you come back to play?" "Because I wanted to end my career on the court, I deserve it, and to do the impossible to finish with a good ranking. I had dreamed of it since I was a young boy. I always wanted to be the one who stopped the tennis, and not have the tennis stop me. That's why I fought so much for all this. And I came back to play to be up there. Because I always felt I was going to come back and play".

(Mariano Puerta)



"What does Guillermo Vilas mean to you?" "Guillermo is a role model we all had at one time or other, which has been torturous for many people, including me. He was the best at everything, as a role model and professional. He trained eight hours a day. His image is so deep rooted that at one point, I ended up hating him because all my coaches would tell me I had to train longer and not just four hours."

(Martin Vassallo Arguello)



"There are some things which are normal, much more so than for other people. For example? The facilities you have to be able to get anything. From things to do with money to celebrities. For example, I remember once I was practising in Madrid and they invited me to the Real Madrid training session. I think that would be a dream for a lot of people, and I, thanks to tennis, had the chance to be with all the Argentinian and foreign players from the team. Y

You might think that this is normal, but when you stop and think about it, you say: "What am I doing here eating with Ronaldo or Beckham?" I even played tennis with the prince of Monaco. I was training in Monte Carlo one day and they came and told me he wanted to play, so he came and we played for a bit. Over time, these things become so normal that they end up being insignificant. In any case, they're things that happen to elite tennis players, there are heaps of players who don't even come close to experiencing these situations..."

(Mariano Zabaleta)
Link
Translation done by
Michelle and EM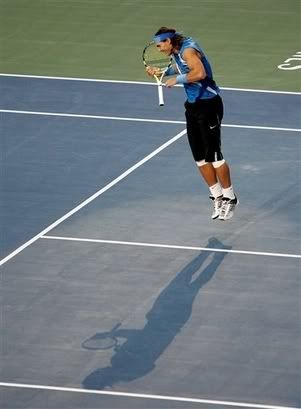 Rafa
The Rehabilitation of Justine Henin
The work of rehabbing Justine's image continues unabated. During an exo at Charleroi Belgium her father Jose, from whom she's been estranged for years, made an appearance. Jose Henin didn't skip a beat easing into full tennis dad mode.
I'm so happy to be back in this atmosphere, I really like it. But one of the main reasons I like it today is because I have nothing to do here except eat, drink and enjoy the tennis. I have no responsibility. It wasn't always like that in the past.

"Now the situation is quite clear. Justine has only one coach and that is Carlos Rodriguez and she has only one father, and that's me. I am not, repeat, not, part of her entourage."
(...)
The whole world is waiting for Henin, the best player of modern times, to fulfil her potential on grass and finally win Wimbledon.

Her father is no exception, although he warned: "We cannot put pressure on her.She will either win it or she won't, that will be for destiny to decide."
Sounds like there's another story in there but it's always nice to see families reconcile and put bad times behind them. It's the holiday season.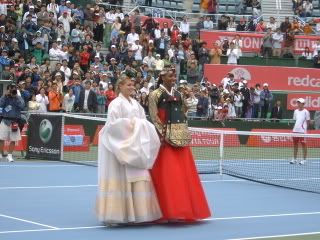 Venus Williams and Maria Kirilenko Korea 2007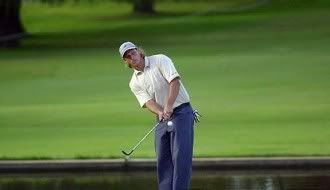 David Nalbandian in Argentina 2007
Tennis Chatter
So
Judy Dalton,
a British Wimbledon finalist back in the day, feels the WTA should stop the grunters. Maria, Venus, Serena, you have been served.
Dalton, the winner of nine grand slam doubles titles, claims she would have been prepared to forfeit a match against the grunter par excellence, Maria Sharapova — and has urged the current generation of tennis players to do so.

"If that was me and I was playing Sharapova, I would be saying, 'If you continue with that you can have the match, I'll walk off, and I'll lodge a complaint,' " Dalton told
The Age.
One would think that the British tennis establishment has more to worry about than the grunting of non British female tennis players. Maybe if they let their young women let it rip every now and then they'd have someone in the top ten...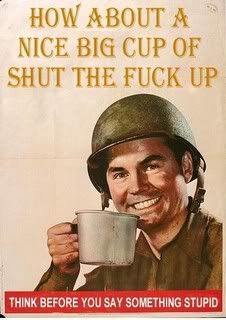 A Celebration of Spanish Tennis
The Spanish Tennis Federation gathered all of it's top players for a picture with all the trophies they've won. It's a great shot.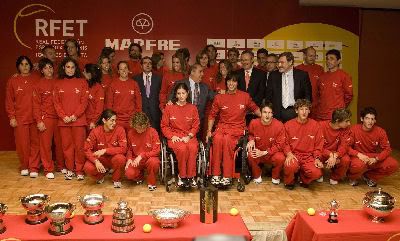 Emilio Sanchez Vicario and the players, Rafael Nadal, David Ferrer, Tommy Robredo, Juan Carlos Ferrero, Fernando Verdasco, Nicolas Almagro and Feliciano Lopez. Carlos Moyà was unable to attend.
Miguel Margets and players Anabel Medina, Lourdes Dominguez, Virginia Ruano, Maria Jose Martinez, Nuria Llagostera, Laura Pous, Carla Suarez and Marta Marrero.
Also present were David Sanz, Spanish Tennis Coach Wheel Chair, Kico Tour, Lola Ochoa, Pablo Carreno, Diego Estrada, Maite Gabarrús, Leticia Costs, Roberto Ortega and Tomeu Salvà.
The Original Martina Speaks Out
This interview covers a lot of territory including a very convoluted defense of her now disgraced namesake
Martina Hingis
but I found this interesting as it relates to tennis.
Q.

If you could coach one player on the men's or women's side, not necessarily the best player but the person you'd most like to get your hands on, who would it be?



Martina:

It would have been

Novak Djokovic

, but he's in good hands with

Marian Vajda

, and he's bringing out the best in him. I had seen him three years ago and thought he had 'it.' You can spot it at any level, but certainly when you get to the top level you can start to see if they have the physical ability, and also what they have in the head, which is what keeps so many players from reaching their best.

Justine Henin

would have been a pleasure to work with. There's a girl named

Agnes Szavay

who is a great talent as well. She's Hungarian. I saw her hit two shots and saw how she carried herself between shots and I thought, that kid is for real. When you see talent like that, that's what you want to help mold and get the best out of them.
The interview is found in it's entirety
Here
Nicole and Radek Update
No wedding pictures. No pictures of them strolling along the beach hand in hand gazing into each other's eyes or exiting a tennis practice with their arms wrapped around each other. Nicole's family is denying they are engaged despite the existence of a marriage license. Radek's father merely stated that they weren't married. Talk is Nicole's family as well as those who have invested in her tennis career are trying to talk her out of marriage at her age. She's quite volatile though and I wouldn't want to be one of those trying to make her see reality. Meanwhile Radek is getting more props from a certain segment of tennisheads for his off court prowess with the ladies than he ever did for his tennis. The license is valid for sixty days under Florida law.

Guillermo Coria
Guille was never one of my favorites on court but I have to stop and give respect to a man who despite all his physical and personal woes still wants to play competitive tennis. I saw Guille last year at the US Open on a practice court. He couldn't get a serve in to save his life. Despite problems in his comeback he is using his protected ranking to enter the main draw at Vina del Mar which starts right after the Australian Open ends. A respectable showing is what he wants, and needs, right now.
Anna Chakvetadze Robbed
After being tied up and robbed in her own home Anna Chakvetadze issued the following statement:
"Thank you to everyone for your concern and support to me and my family. My family and I will get through this. This was a very difficult experience for us, but the police are investigating and we hope to move on."
Anna
There were reports that the robbers were captured and this picture appeared on fan sites. I checked with mmmm8, my go to person to translate articles in Russian and she said the following:
It's a legit photo, but the article says that it´s only a possibility that this has anything to do with the Chakvetadze robbery. Looks like these people operated mostly in a different locale near Moscow.
Here is the link to the article in Russian.
Chakvetadze Robbery
The Road to Melbourne
It's rare that I give the WTA credit for doing something right but I have to congratulate them on how they handled the giving of a wild card into the Australian Open by holding a play off tournament. This event was won by
Madison Brengle
who will be in the maid draw at Melbourne after winning a round robin event held at the Evert Academy to determine who would go. The field consisted of eight players. The seventeen year old Brengle defeated
Alexa Glach
6-3 and 6-4.
The ATP in the meantime held an age restricted, no one born before 1985 could apply, four man round robin which was won by
Jesse Levine
, best known for being summoned into the presence of
Roger Federer
earlier this year to act as a practice partner. I guess the USTA is throwing in the towel on it's older players huh?
The feel good tennis story of the week is related to one Mr. Joseph Sirianni of Australia who will be appearing in the Main Draw of his native Grand Slam. He defeated all the young 'uns in the competition to win his WC berth. Let's see if he gets thrown under a bus in the draw.
Other News
Rafael Nadal and Iker Casillas Anti Malaria charity event took place on Thursday December 20, 2007
Teams:
Team Rafa:
1. Juan Carlos Ferrero
2. Carlos Moyá
3. Raúl González (Real Madrid, Second striker/attacking midfielder)
4. Miguel Angel Nadal (ex Barcelona player, Defender)
5. Alberto Contador (cyclist, Tour de France winner)
6. Frédéric Kanouté (Sevilla FC, striker)
7. Sergio García (golf player)
8. Pedro Martínez de la Rosa (F1, McLaren Team)
9. Roberto Abbondanzieri (Getafe CF, Goalkeeper)
10. Jesús Navas (Sevilla FC, Midfielder)

Team Iker
1. Feliciano Lopez
2. Alvaro Benito (singer, ex Real Madrid player)
3. Sergio Ramos (Real Madrid, Right-back/Centre-Back/defensive midfielder)
4. Fernando Hierro (ex Real Madrid player, Centre-back/defensive midfielder)
5. Oscar Pereiro (cyclist, Tour de France winner)
6. Mahamadou Diarrá (Real Madrid, Defensive midfielder)
7. Fabio Cannavaro (Real Madrid, Centre-back)
8. David Ferrer
9. Álvaro Bautista (motorcycle racer)
10. Lucas (singer from the Spanish Flamenco inspired pop duo Andy y Lucas)

The referee:
Rafael Guerrero
Summary:
Iker and Rafa had a great evening. First up was the tennis challenge. Both Rafa for his team (obviously) and David Ferrer for Iker's team formed a partnership with several athletes. Iker's team won the challenge with 4-6.
Next up was the football challenge. Rafa's team won that match with 10-8 making the overall score of the evening 14-14.
The winning team of the entire evening was then decided by penalties.
Rafa's team won! Overall score: 16-15
Thanks to
MamaSue
and the Rafaheads over at
Vamos Brigade
for posting the above information as well as video from the event.
End Notes
It seems now that the "official" season is over the posts get longer because there is so much going on what with charity events, player interviews being published, and May-December tennis relationships.
Among the news I didn't mention is
Mary Jo Fernandez
easing into the Captains chair for the United States Fed Cup team taking the reins from
Zina Garrison
in 2009. She will be in an understudy role for
2008.
I have to say I have mixed feelings about this move because of Mary Jo's personal ties to IMG. (Her husband reps Roger Federer among others at IMG.) I hope we don't end up with the IMG Superstars playing Fed Cup for the United States instead of genuine team building, the kind that Patrick McEnroe did with the United States Davis Cup team, taking place. Mary Jo has shown that she still has the head for tennis - her commentary, especially when working with Cliff Drysdale, is among the best, but I wonder how independent she will be able to be in choosing her team and if she'll be given the seven years Patrick was to have success. I'd hate to see what happened at the ATP AO Wild Card playoffs become the norm.
I debated leaving the interview with the Argentines in due to the length of this post but did because we in the English speaking world rarely get to hear from these men as individuals. The tennis press in the English speaking world tends to lump them all together and present them as a monolith.
I'm glad to see tennis fans becoming more proactive and posting articles in their native languages translated for English speakers so that we get to know the players and give those who are really interested a chance to gain some insight into a player they may not have been able to get to know before due to language restrictions. Tennis is an international sport and while TPTB may not want to recognize that we the fans seem to be moving on by posting interviews on fan sites along with translations, machine or otherwise, and creating blogs to further discuss the sport and the men and women who play it.
I'm on vacation from now until January 2 so I'll be around on more than a weekly basis depending on what is going on.
The pictures this week were supposed to be personal faves but with the amount of tennis news only three made the cut. Here are some more pictures from this week in tennis.
Iker Casillas(left) and Fernando Alonso
JMac strikes a familiar pose during the McFit Masters of Legends at the Burgwaechter Castello Hall December 19, 2007 in Duesseldorf, Germany.
JMac was playing this guy.
Boris Becker
John McEnroe won the one set match in a tiebreaker. Wonder if Boris has thought about getting more fit to get in on some of the big paying exhibition matches that seem to be sprouting up all over the place?
Venus Williams is featured as one of the best dressed women of 2007 in Vogue Magazine. Here is a pic that instantly became a favorite.