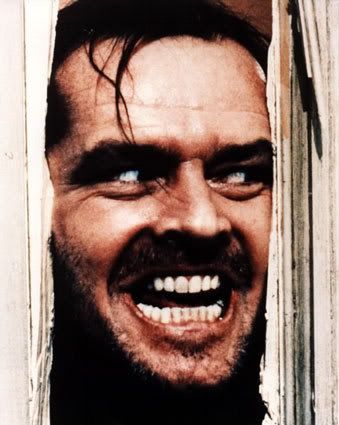 Who can forget the young boy from the iconic horror movie "The Shining" who was trying to warn people about what was coming. "Redrum! Redrum!" he kept shouting. No one understood what he was saying or meant until he wrote it on the back of a door and his mother saw the word for what it was reflected in a mirror. By the time Jack Nicholson hacked through the door and uttered his now famous words things looked quite dire for his wife and son.
I think that ATP fans have had a rather smug attitude watching the WTA "Roadkill" plan unfold. Nothing so bizarre could happen in the ATP. Well we're all like Shelley Duvall in "The Shining" and we're finally seeing what's coming reflected in a mirror. We should have seen it coming. Round Robin play anyone?
It seems that the inmates have finally taken over the asylum. Tennisheads had barely calmed down from Davis Cup play and Marat's great play for Russia under Tarpishev's guidance when a bombshell hit.
Tennis-x revealed Etienne de Villiers has decreed that starting in 2009 TMS events, now renamed Masters 1000, will carry the same point value as the four Grand Slams – The Australian Open, The French Open, Wimbledon, and The U S Open. This was hard on the heels of announcing that to no one's surprise Shanghai will host a Masters Series level tournament thus clearing the way for the TMC, or whatever it's called, to be moved back to Europe, probably to London.
A little history is necessary for those who may not know how the current structure of men's tennis came about. Richard Vach wrote the following in his column on tennis-x.
The ITF lost control of the tour in the late 1980s when players revolted against the lax running of professional tennis, and the ATP Tour was born in 1990 (a title since shortened to ATP, and reportedly changing to "ATP Worldwide Tour" in 2007. Just in case you might mistake it for a regional or local tennis tournament). Since then the ATP and ITF have been at loggerheads in a push and pull battle for control of professional tennis, at times making nice, at more often times taking shots at each other in the media and refusing to back down from even minor power positions. The ATP has had difficulties with the 2009 calendar, especially in regard to the ITF's stiff positioning of the Slams and Davis Cup weekends.
Full Article Here
There's no need for niceties here. The plan does nothing to address the scheduling issues that plague tennis and force players to have to choose where and when to play in order to maximize their chances. Hamburg is a victim of this as is the Paris late season Masters event. To say the plan sucks doesn't begin to say how bad it is. Columnists, bloggers and fans have all reacted with either laughter or anger. Change is one thing no one will deny is needed. Destruction is another thing altogether. In my opinion this is an attempt to blow tennis up from the inside, to implode it like a building that has been deemed worthless by some real estate developer who wants to build a bright shiny glass and steel box where a building put together by master craftsmen with brick and mortar once stood.
They're taking balance away from a sport that has been truly international in order to make it a sport for ball bashers from the Northern Hemisphere unable to construct a point even if given, yes, a map. But the fans, the people who buy the tickets and fill the seats have no say in this. It's not clear what the Player's Union will say. When last seen their top officers were either trying to get the rules bent for themselves or denigrating a fellow player who was wronged by the ATP. I have a feeling the leadership will pretty much keep their mouths shut.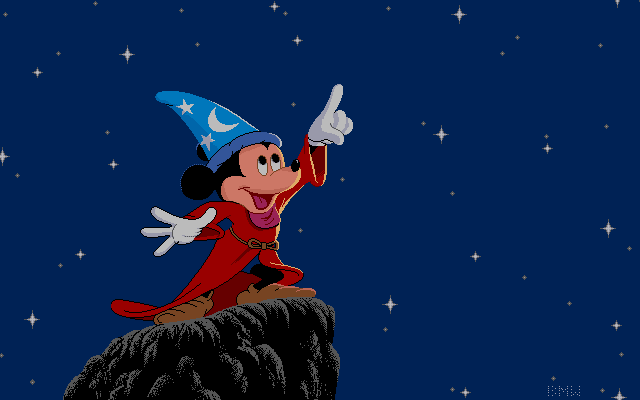 The next ATP board meeting will take place in Paris just before Roland Garros. Some of us are old enough to remember Disney's original "Fantasia" where Mickey Mouse, thinking he knew as much as the sorcerer, decided to try a spell on his own.
Things went well at first and Mickey was proud of himself. Then things got a little out of hand to say the least and the Sorcerer's Apprentice had to be rescued by someone wiser than him. It seems he knew only part of the spell-the part that started it. He had no idea how to stop it. I think it's high time the reins of power were taken from the apprentice and given to someone wiser, with more respect for tradition and who is willing to remodel, not destroy the sport of tennis.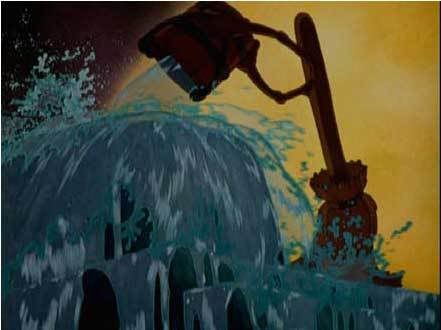 Update: The ATP's Greg Sharko is reported to have sent out an e-mail saying that the Slams will continue to be worth more points than Masters 1000. This is after the "Melbourne Age" reported the same story Tennis-x reported. This is posted on Tennis.com
Link Here