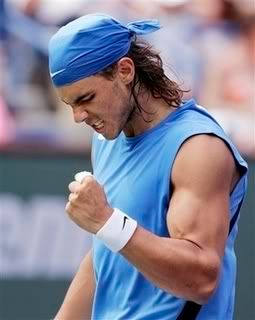 During the just fnished Miami tournament Rafael Nadal announced that he would not be playing Davis Cup for Spain. ESPN's court side reporter Pam Shriver found Emilio Sanchez in the stands and of course asked Spain's Davis Cup captain how his team would fare without Rafa. I guess no one told Pam that Spain had managed to win against Switzerland with Rafa sitting on the bench.
Emilio was as diplomatic as he could be making nice noises about Rafa having to protect his foot managing to call Spain's top player "fragile" as he did so. Needless to say the United States Davis Cup captain seized on his peer's words saying Emilio was "bitter" about Rafa's decision not to play. Of course Patrick McEnroe didn't do a dance in the broadcast booth but he had to like his team's chances with Rafa not even a threat to play in Winston Salem this weekend. Rafa made the trip to Switzerland and stayed the entire weekend to cheer his compatriots on.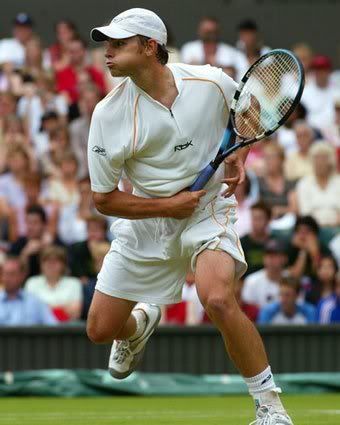 I'm sure Patrick was less sanguine when Andy Roddick pulled up lame during his match against Andy Murray with a pain in his not so famous butt. Andy Murray, exhibiting behavior that can only be called "peckish" rolled over and played dead during his match against Novak Djokovic all the while shouting obscenities at his coach Brad Gilbert. Murray has now said that he was suffering from both a groin and leg injury and is unlikely to play Davis Cup for Britain against Belgium. I wonder how bitter John Lloyd is?
Normally I wouldn't write about this except that a thread appeared on
www.menstennisforums.com
asking if today's athletes are patriotic. It started when Rafa pulled out of Davis Cup and has now been expanded to include Andy Murray and the entire Russian DC team. Funny that no one questioned Andre Agassi's or Pete Sampras' patriotism when they refused to play Davis Cup because it was inconvenient for them to play for their country. Sampras famously had to be begged to play. Agassi didn't make DC officials grovel as much as I recall. Sampras felt no one appreciated his play – there wasn't enough press coverage- in Moscow during one tie and then got Davis Cupitis. I'm not sure what set Andre off.
People have a right to question athletes about any and everything and I wouldn't deny them that. I think it's a bit unfair to rag on Rafa about not playing Davis Cup when the reason his foot is in the shape it is is as a result of his playing himself into exhaustion and carrying Spain on his back in 2005. It was Davis Cup play that stopped him from playing the Australian Open in 2006 with the foot injury he is now understandably citing as reason for his not playing.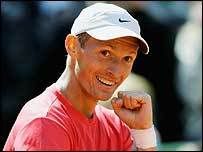 Nikolay Davydenko who for some reason is drawing fans ire is a man who played so much tennis in 2006 people wondered how he could even lift a racquet. He seems to be playing a more moderate schedule this year and is playing this weekend's tie. Why the fans are after him I have no idea.
Andy Murray is also being called out for being a slacker. The entire history of Scotland and England is being dragged out as possible reasons why Murray isn't playing. Murray isn't the only one who's alleged political beliefs are being used to explain his not playing. Catalunya's quest for nationhood has also been thrown into the mix by those questioning Rafa's decision. Davydenko's Ukrainian ancestry is also part of the brew.
Is all of this fair? Probably not. The politics involved probably have more to do with those of tennis rather than nationhood. Davydenko made some comments last year about who is Russian and who isn't. Emilio Sanchez became DC captain in Spain after the prior coaching team was tossed out and he is known to be a favorite of the most powerful man in Spanish tennis. And Murray is just trying to put some kind of positive spin on his churlish behavior in Miami by citing injury. If he was so badly hurt that he couldn't defend himself against Djokovic how can he possibly play Davis Cup?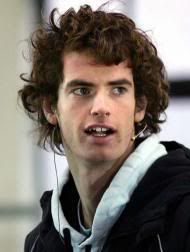 Davis Cup has been a problem child for tennis since the Sampras and Agassi boycotts of the previous generation. The athletes today can't be faulted for me-firstism when these two greats got away with it for years. The game has changed, there are more tournaments and more money than ever. The athlete owes it to himself to put his health ahead of an event like Davis Cup which offers no ranking points and comes at admittedly awkward times of the tennis year. If some of the talked about changes come about – rankings points and only playing every two or four years things will probably change. Until then there will always be drama around DC ties with a lot of it taking place off court.
Note: I haven't discussed Fed Cup yet but Maria Sharapova announced that she will not be playing Fed Cup due to shoulder problems and a hamstring issue. I wonder if her patriotism will be questioned…oh wait.