I know this is a tennis blog and that all the posts are supposed to be about tennis soooooooo...
Here's a pic of the center for the Florida Gators, Joakim Noah, with his father Yannick Noah. You've heard of him right? Something about the French Open 1983...
I just want to register my humble opinion on who will win tomorrow.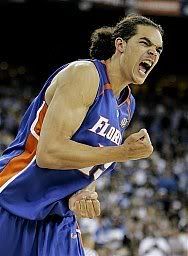 There is also this little golf event happening this week. Something called the Masters. This guy who seems to be a tennis groupie is said to be playing. They hand out a green jacket to the man who wins. Whatever. I guess playing golf is better than hanging around tennis courts no?