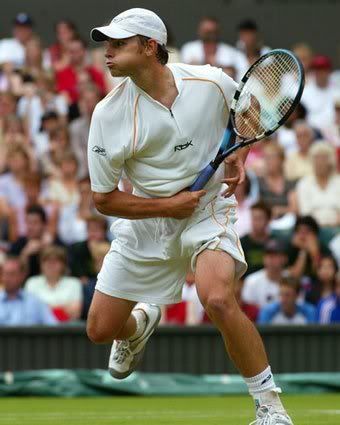 I've been on my soapbox a little about the American men not even pretending to compete seriously during the Clay Court Season. So while surfing tennis stories I came upon Justin Gimelstob's latest blog entry about the upcoming tournaments and the Road to Roland Garros. You can imagine my surprise when I read the following:
American players are raised to focus on building weapons and finding ways to attack and win points. Clay-court tennis puts a premium on defense and manipulating your opponent into low-percentage positions where he will eventually lose the point.
Justin goes on to say the following:
South Americans and Europeans who grew up on clay have such an overwhelming advantage because of years of practice combining the movement and the patience of developing a point that we Americans can't learn in a crash course.
I've pretty much said the same for the last couple of years. It's just a surprise to see a product of the American tennis system admit to it. Justin does say that there are red clay courts in Florida but doesn't state openly that American bred coaches can't teach their students how to play on it. He also says that Andy Roddick and James Blake can win on clay. Roddick won on clay before dropping Tariq as his coach. He's been miserable on it since. Blake? After his showing against Zabaleta this weekend I'm not sure he has the patience to actually do well on clay. He lost to Zabaleta the same way he lost to Monfils last year except it took two sets this time.
Here is Justin's entire blog entry. It makes for interesting reading.
Go Here