by Savannah
This wasn't supposed to be my year end post. It's been ready since just before Christmas. Instead I kept looking at it and wondering if I could really say there were matches worthy of being called the best of 2008. Not that I have anything against women's tennis. It's just that this year was really two years in one and resulted in what could be called the most competitive year in recent memory.
The split came when
Justine Henin
suddenly announced that she was retiring. It was
Borg
like I suppose but we know Bjorn left because he was young, rich and wanted to sample what the world had to offer. Henin simply said she was burned out. I'm sorry but I've always had the suspicion, especially with the amount of spin that was done, and
Larry Scott's
cavalier attitude, that there was more here than was being admitted publicly. We'll see what happens after she's been gone a full year.
But life, and tennis, moved on. There were four different Slam winners, a Russian sweep of Olympic medals to go along with a decisive win of the Fed Cup for the second year in a row, and a year end number one that no one who is serious about the game of tennis can say was the best player of 2008. It says something when the woman named Player of the Year by the ITF, the woman ranked number one, has more cyperspace devoted to why she's not the best of 2008 than about why she was.
All of this conspired to make observers give a hearty "meh" when looking at the women in 2008.
But there were some bright lights and after almost two weeks of sitting on the matches I chose I still think these were the best. As you know from my mens picks I can be quirky and choose matches that can be termed influential more than "best of". A lot of year end best of lists cite the
Marcos Baghdatis
vs
Lleyton Hewitt
match at Oz as among the best. It was a good match but what effect did it have on the world of mens tennis? Not much. I didn't have that problem with picking the best of the WTA though. My biggest problem was choosing number one and number two.
But enough of the bloviating. The now iconic quote from the Grateful Dead I used says it all. 2008 has been a long strange trip.
Venus Williams d. Serena Williams Wimbledon Final
I've watched the Williams sisters since they made their pro debuts. I've always thought that while Serena may have the better serve motion, something the talking heads go on about ad nauseam, and plays the power game better than anyone else that it was Venus who had the more solid all around game. When they played each other who was best took second seat to family dynamics. I don't pretend to know anything about the Williams family other than what they allow to be known publicly. It just always looked to me that Venus, to stop Serena from holding her breath until she turned blue, let her sister win. This was the match where Venus finally said "I'm not having it", and played the way I always felt she could play against her sister. I kept waiting for Venus to step back but she surprised me and stood toe to toe at what is her house. Yeah Serena was a little put out but whatever. Oracene Price had to tell her daughter to back off from the attitude and she did.
Serena Williams d. Venus Williams US Open Quarter Final
So Serena was upset about Venus beating her at Wimbledon. Good. Because this time they met it wasn't a final but an elimination. The sister that lost would go home. I guess Serena felt that if Centre Court at Wimbledon is Venus' house than the larger than life Arthur Ashe stadium at the US Open is hers. What a match it was. And in the end it was Serena who was left standing. And once she came through that fire she was not to be denied.
Maria Sharapova d. Justine Henin Australian Open
This quarter final between the golden girl of the WTA and the gritty little engine that could, a repeat of the 2007 final would have been ranked number one if the above mentioned matches hadn't occurred. I thought that of the two Maria was playing better tennis but I'd seen Henin pull out matches she shouldn't have in the past and thought at best it would be a tight three setter. It wasn't. Sharapova, showing that she can play tennis at a very high level, cruised. She routined the first set 6-4 and handed Henin a nice steamy bagel in the second with her movement, yes movement, and use of power when it made sense to do just that. In the last game, on her serve, Henin had no idea what to do. The match is famous for Yuri Sharapov's throat slashing motion which the WTA brass viewed as a "joke" between the two.
Zheng Jie d Ana Ivanovic Wimbledon Third Round
Zheng Jie
, ranked number 133 in the world, was going up against the woman then ranked number one, and the winner of the French Open,
Ana Ivanovic
. Yawn. Zheng is known as a doubles player and most thought she would lose here and continue her great doubles play. So how did she end up beating the woman many saw becoming a dominant number one? In straight sets? I remember saying that Ana was not ready to be number one. She wasn't then. Zheng was on fire and did reach the semi finals, the first wild card at Wimbledon and the first Chinese player ever to reach the semi final's of a Grand Slam. Zheng's great run was ended by Serena Williams who won 6-2 and 7-6(5). Will Ana return to number one? I'm going to go out on a limb here and say no.
Dinara Safina d. Justine Henin Round of 16 Berlin
Dinara won this match 5-7, 6-3, 6-1. She then went on to beat Serena in the quarter final,
Victoria Azarenka
in the semi, and fellow Russian
Elena Dementieva
in the final to announce her arrival among the elite of her sport. Dinara then went on to lose to Ana Ivanovic at Roland Garros in the Final and
Tamarine Tanasugarn
of Thailand at S'HERTOGENBOSCH, and played a marathon match against Shahar Pe'er at Wimbledon that took over three hours and was won by Pe'er. Dinara limped over the finish line at the end of the year but is now ranked third in the world, a mere 49 points behind Serena.
Best Performance by a Woman 2008
In terms of sheer dominance during a tournament no one played better than
Maria Sharapova
during the Australian Open in 2008. After losing to Serena 6-1, 6-2 in the 2007 final(It wasn't even that close) Maria came into this event in 2008 with a lot to prove. And prove it she did. From her opening round victory over
Jelena Kostanic Tosic
ranked 102 in the world Maria marched through the returning
Lindsay Davenport
, served second set bagels to
Elena Vesnina
and
Elena Dementieva
and then beat the world number one also serving up another bagel in the second set. Three bagels in a row. Think Maria was on a mission?
She then beat world number four
Jelena Jankovic
6-3 and 6-1 in the quarters and defeated third ranked Ana Ivanovic 7-5, 6-3 in the Final.
I've always said Maria gets gifts from the gods of the draw in her tournaments but the Aussie's didn't hand her any freebee's here and she played her ass off (no snark intended). I fully expected her to continue her dominant play at the Slams and Tier 1's but it wasn't to be. In my opinion her play here deserves mention and praise even from this non fan.
Best Performance by a Country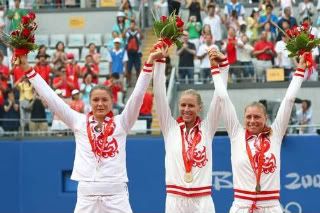 This was the year of the Russian women.
Maria Sharapova.
Elena Dementieva
.
Vera Zvonareva
.
Dinara Safina
.
After the sisters Williams these are the names that come to mind when I think of 2008. Elena played perhaps the best year of tennis in her career bringing home Olympic gold in the process. Vera proved that she deserves mention among the top Russians. It remains to be seen if she continues her form in 2009. Dinara. What can you say about this woman who finally seems to have come out of her shell and had the best year ever making it to the YEC where she ran into the force known as Venus Williams. The Russian men may not have done well this year but the women showed that with a lot of work and focus both as individuals and as a team - they did win the Fed Cup too by the way - they were the best in 2008.
Honorable Mention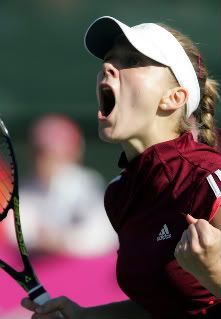 This match came early in the year in Israel. Let's just say the Argentine fans don't have anything on their Israeli counterparts. Some say the crowd behavior was reflective of Israeli's not being all that familiar with tennis etiquette. I don't know. I do know that Chakvetadze battled her opponent and the crowd to win a significant victory for Russia and played good tennis while doing so. One of the better women's matches of the year.
Shahar Pe'er d. Dinara Safina Third Round Wimbledon
This marathon sent the careers of the participants in different directions. Pe'er won the battle 7-5, 6-7(4), 8-6, but ended the year ranked number 38. Safina won the war. Still this was one of the best women's matches of the year in terms of grit and determination and the victor didn't become clear until late in the match when a tired Safina couldn't pull the win out. Pe'er went out meekly to Elena Dementieva 6-2 and 6-1 in the next round.
End Notes
I guess you've noticed that I didn't pick one match involving the ITF Player of the Year Jelena Jankovic. Some are posting the US Open Final against Serena but nope. Serena was not going to lose that match no matter what Jelena did. It just wasn't that great a match in my very humble opinion. I think people feel that since she finished the year at number one and was picked POY by the ITF, doubly ironic since she didn't win one Slam which is the province of the ITF, that she had to have a match in the "best of" category. Nope. She ended the year ranked number one because of the amount of tennis she played not the quality. Of all the women she has the most to prove in 2008. Can she put together a year where she plays less and plays better? We'll see won't we?