by Savannah
I don't think there's any question about who the ATP player of the year is. I'm sure some will make the case for
Andy Murray
due to his big turnaround at the end of the year. Some might argue for
Novak Djokovic
for holding onto his number three ranking or
Gilles Simon
who broke into the top ten and made a good run at the YEC and during the indoor season. As I've said many times tennis fans are like cats. Try to line us up behind one opinion and you get a hot mess.
And please I don't want to hear it about the "clay slow" grass at Wimbledon or the slowing down of hardcourts. That has more to do with technology than anything else and we all know it. Please get it through your heads that the age of wooden racquets is over and will not return. And whatever other agenda is swirling in your brain forget that as well. Let's not hide ethnocentrism behind a facade of words.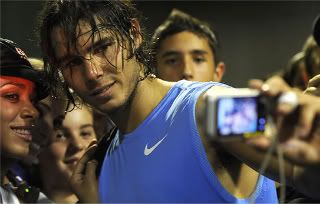 So why Rafael? Let's look at this information from the
Official ATP Site
SINGLES
Won:
ATP Masters Series Monte Carlo
Barcelona
ATP Masters Series Hamburg,
Roland Garros
London / Queen's Club,
Wimbledon
ATP Masters Series Canada
Beijing Olympics
Final:
Chennai
ATP Masters Series Miami
Semi Final:
Australian Open
ATP Masters Series Indian Wells
ATP Masters Series Cincinnati
US Open
ATP Masters Series Madrid
Quarter Final:
Dubai
ATP Masters Series Paris
Doubles
ATP & Grand Slam
Won: ATP Masters Series Monte Carlo(w/Robredo)
Is it stats you want?
Singles Record:
82 - 11
Singles Titles:
8
Doubles Record:
11 - 7
Doubles Titles:
1
Rafael tops the list in the following categories:
Points Won Returning First Serve
Points Won Returning Second Serve
He is in the top five in
Break points converted
,
Break points saved
,
Service games won
and
First Serve percentage
.
To achieve all of this in an Olympic year is nothing short of amazing. There are those who will whine about his "poor" year when the tour came to the States and during the European indoor season but let's not forget that he got his team mates to the Davis Cup final. Even though he didn't play the DC final he was the reason things went down as they did in Argentina regarding the venue and the court. And lets not forget that playing tired not only mentally but physically he made the semi finals of the US Open.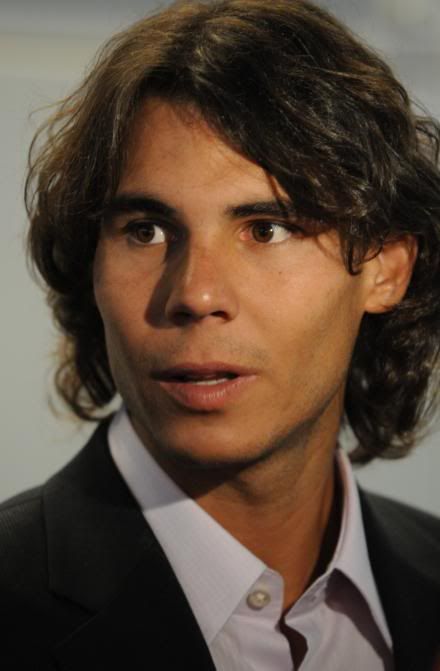 So if you're still whining here's some cheese to go with it. And when you get a chance look at that RG, Queens, Wimbledon, Canada run.
Congratulations Rafael. Vamos!