by Savannah
ATP Coaches of the Year
Antoni Nadal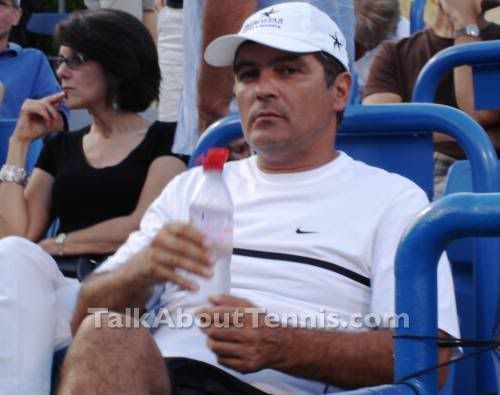 What do you say about a man who's player ends the year as Number 1? Called Tio Toni by everyone Antoni demands nothing but discipline from his charge in his approach to tennis and respect for the sport of tennis. No broken racquets, no tantrums. Thanks to "Pat" on the Rafa fan site
Vamos Brigade
for translating this interview where Toni speaks for himself.
BIELLA, December 3, 2008 - Uncle Toni is a strong man, a hard teacher, the pillar of the phenomenon Rafa Nadal, the world #1. At Biella he was the big name of the symposium "Story of a project: tennis from 0 to 14 years." And he will help us discover more about the phenomenon of Majorca.

Which is the first rule of the trainer everybody envies?

"Education and respect for you, for your opponent, for the crowd, for everybody. When you get along well with the others, you tend to listen to their advice, you accept it and understand it. And you'll also improve in sport. He has received a good education from his father.



It's easy to say that when you are talking of a "pupil" like Rafa.



"Who fails to comply once will certainly do it twice. And he will blame everybody/everything but him: the racket, the coach, the court. When he was 10 years old, Rafa spent the whole summer fishing with his friends. When he resumed playing, he started to lose and he complained about it. I told him: "it's your choice: either you practise to become a tennis player or a fisherman". In his career he broke just one racket and it was not made on purpose.



No relapses?



Four years ago before playing Hanescu he had 4 chocolate croissants in his hand. Carlos Costa, his manager, came to me and said: "Don't let him eat them. He cannot eat them now." I replied: "Are you joking? If he gets sick, he will understand"



Discipline means results?



It's all very easy in sport. Problems come if you don't work and you don't get adapted to changes and you don't adapt these changes to your body. We are different to one another and not everything is the same for me and you.



Adapting, another key word for uncle Toni.



"During the US Open in 2005, Rafael complained about the balls. I told him: "Look, they won't change them. If you want we can fly back to Majorca". In Beijing he was like a fish out of the water. I urged him: "Be calm. Come on, you won't play that bad" and he won the gold medal. Adaptation is mental strength.



Even mental strength can be "practised" like shots?



Absolutely, talking and talking, even with severity and hardness, to maintain discipline. You must be hard, because life is tough. Otherwise you don't win four Roland Garros or try to win two Wimbledon. Many guys play well, very few can play with consistency at a high level.
(...)


Who is Rafa's coach?



I have passion, I have a lot of experience because I taught the boys in Mallorca. I have learnt much with Rafael. And I learnt much from Solone
"Without method, order, determination and effort there is neither a genius nor a triumph".



Let's analyze 2009.



First of all, it won't be just Federer-Nadal. I'd rather prefer to beat Borg's record and win the fifth Roland Garros in a row than win US Open, because it's records that make history. If we talk about mentality, Rafa can be compared to Borg but he has more intensity, he's someone between Borg and Connors, and his way of using his body is closest to that of Jimbo.
For the entire interview in the original Italian please go
HERE
Miles Maclagan
At the beginning of 2008
Andy Murray
seemed to be on the well worn path of a tennis phenom who was unable to impose the mental and physical discipline needed to become one of the games top players. By the end of the year he was ranked number four with a bullet to borrow a term used in music circles when a song takes off like a rocket.
The tennis world rolled it's collective eyes when Murray fired American
Brad Gilbert
not so much in surprise but because the collective wisdom was who could handle the volatile Scot if one of the anointed couldn't? In stepped baby faced
Miles Maclagan
who at the ripe old age of 33 has to be the coach who had the second best year. When Murray, who had been coachless for part of 2008 decided he needed a coach if only to have someone to curse out when things were going bad picked Maclagan, a fellow Scot, not much was expected. Maclagan was born in Zambia but grew up in Zimbabwe where he competed with
Wayne Black
of the tennis playing Black family. He did play pro and was ranked 172 in singles and 200 in doubles. He actually joined Murray's team in 2007 but it was in 2008 that his influence began to show.
The pressure will be on Miles and his charge in 2009. Many hope that Murray will improve his ranking. We'll see. As for now he deserves recognition for the year he and his pupil had in 2008.
Thierry Tulasne
This former top ten player from France saw his pupil
Gilles Simon
end up as part of the elite eight at the TMC Shanghai this year. Simon, like Andy Murray, made a name for himself in the second half of the year with victories over
Roger Federer
and Rafael Nadal. With his strong play Gilles Simon is now challenging for the French number one
Jo-Wilfried Tsonga
. Like Murray the pressure will be on Simon to produce next year. Tulasne, who has coached the likes of Sebastian Grosjean and Paul-Henri Mathieu will not be able to rest on his laurels.
Eric Winogradsky
The long time coach of
Jo-Wilfried Tsonga
Winogradsky has been with the charismatic player seemingly forever. After reaching the final in Australia last year Tsonga sat out a large chunk of the year with injury and it looked as if the year would be a loss. Instead Winogradsky made the trip to Shanghai for the TMC along with his pupil. I'm sure the goal will be to make the short trip to London in 2009. Will Tsonga, who is reported to have chronic back problems be able to play a full schedule? It will be Winogradsky's job to manage Jo's schedule to see that he doesn't fall out of the top ten. The pressure of expectations can be a bitch.
Honorable Mention
Marián Vajda
Novak Djokovic
is within striking distance of becoming the number two player in the world despite what many consider a lackluster season for the Serbian player.
Eduardo Davydenko
Nikolay Davydenko finished the year at number five in the world and once again made it to the year ending TMC. Not enough credit is given to this man who has kept his brother among the elite of the sport for several years now.
Miroslava Vavrinec/Roger Federer
This pair continues to do it their way. Roger remained officially coachless in 2008 ending the year at number two in the world. Will the pair continue to do things their way in 2009 or will someone be brought in to become Roger's official coach?