by Savannah
There are two ways to foist your opinions about the matches of the year on innocent readers. One is the fangirl/boy approach and pick the matches where either your fave wins or the player you love to hate loses. The other is to try and think about the matches you enjoyed over the year. I guess you know I'm going to do the latter.
What criteria am I going to use? What effect did the match have on the tennis world? Did the players involved go on to greater heights or sink to greater depths? Was the outcome foreseeable or was it a surprise? Lastly I'll look at what handicaps the players had to overcome in order to win.
That said, this is my list. The order may seem odd but I'll give my reasons.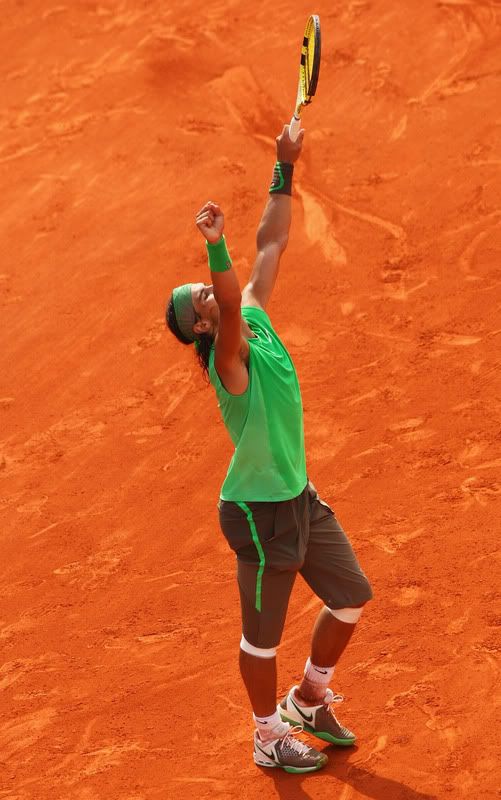 1. Chennai Semi Final
Rafael Nadal
Defeats 
Carlos Moya
This match took place early in the year and I consider myself fortunate to have seen it. To channel my inner "Sofia Petrillo" picture this, Southern India, 2008. Oppressive heat and humidity. Mentor and student going after each other with the student seemingly coming out on top. Instead the mentor pulls himself together and fights his protege tooth and nail extending the match to five hours and the student comes out on top. It's a great match and if you can get your hands on a copy of it do so. Many tennisheads who did not see this match look at the one that took place the next day when Rafael, who couldn't even move and would've gotten a pass from fans if he'd thrown in the towel, lost to Mikhail Youzhny love and one and say Rafael started his year badly. I disagree. Without this match you don't have the next one on my list.
2. Wimbledon Final
Rafael Nadal
Defeats
Roger Federer
This match will go down as one of the greatest ever if not the greatest in mens tennis history. It had it all. Rain delays and darkness, herculean efforts by both players. Rumors of pep talks by significant other/coach during one delay. And just before they would have had to call the match due to darkness Rafael Nadal rallied himself to win. If for any reason you missed any of this match find a way to get your hands on it. You'll want it as part of your collection. And I say without that earlier win in Chennai Rafael may have stumbled at the end. Instead he drew on that earlier experience and did what he had to do to win.
3. Australian Open Third Round
Roger Federer
Defeats
Janko Tipsarevic
I see this match on a lot of the end of year lists and I had to really think about adding it to mine. You can argue that this match set the tone for Roger's year and that he should not have needed five sets to win over a gutsy Tipsarevic 6-7 (5), 7-6 (1), 5-7, 6-1, 10-8. Roger said he was ill with the effects of mono. Did it affect his Wimbledon? No, I think the French Open and Hamburg did that. Was it great to watch? Yes. Did it affect his mental outlook? Probably. One of the greatest of the year? You can argue pro and con in my opinion. One of the most influential? I'd say yes.
4. French Open Final
Rafael Nadal
Defeats
Roger Federer
Many tennis "purists" want to ignore the French Open Final saying the tournament was dull and boring. I think it has more to do with the score of the final match than anything else. The then number one player not managing to take a set from the defending champion was one thing. The worst part of it was the score. Nadal beat Federer 6-1, 6-3, 6-0. A bagel. In a Grand Slam Final. You can ignore it all you want but this is one of the best of 2008 if you want to see what it looks like when one player dominates another not only on the court but between the ears.
5. Hamburg Semi Final
Rafael Nadal
Defeats
Novak Djokovic
There was no hype needed for this match. Djokovic was breathing down Rafael's neck and a win here would have moved him past Rafa to number two in the rankings. Instead in another grueling match that lasted three hours Rafael defeated his rival 7-5, 2-6, 6-2 holding onto his ranking and positioning himself to move ahead of Roger Federer later in the year.
It should be noted that in the other semi final Roger Federer defeated Andreas Seppi. No knock against Seppi but give me a break here.The Final saw Rafael defeat Roger 7-5, 6-7 (3), 6-3.
6. TMC Round Robin
Andy Murray
Defeats
Roger Federer
After routining the first set 6-4 Roger Federer got ambushed by the man he defeated so easily in New York. Many said then that the US Open was given to Roger thanks to the shenanigans around the order of play on a Saturday when a hurricane was bearing down on the city. Murray apparently felt that way as well and in a match that has to be one of the best TMC matches ever Murray showed he was not having it and beat down the man many want to crown the best ever. Murray showed grit and played relentless tennis winning in a thrilling tie break to three in the second set and winning the third 7-5. There was no surprise that Murray lost his semi final to Nikolay Davydenko 5 and 2 but he had nothing to be ashamed of. He'd played the best match of his career the day before.
Honorable Mention
Australian Open Final
Novak Djokovic
Defeats
Jo-Wilfried Tsonga
Why this match? For this viewer this match had in ugliness what the first two matches had in valor. Tsonga was going to be nervous, his first Slam final after so many years marked by injury. Djokovic had a chance to show the world what a champion he is and erase doubts in many minds that he has the character to be number one.
Instead we saw some of the worst gamesmanship I've ever seen on a tennis court. Only
Jelena Jankovic's
antics in Zurich topped this spectacle. The behavior of Djokovic's family and entourage set new lows and in a way set the stage for what came later in New York where tennis fans showed their dislike for up to then media and commentator favorite Djokovic. To say his schtick wore thin is an understatement.
Djokovic went on to win TMS shields at Indian Wells over Mardy Fish and at Rome over Stan Wawrinka as well as the TMC over Nikolay Davydenko but did not win another Slam to hold on to his number three ranking.
Wimbledon Round of 16
Andy Murray
Defeats
Richard Gasquet
He did it in five sets coming from two sets down. He did it in England where they eat their athletes alive. Another one of those must see matches for 2008.
Davis Cup Final Round 2
Feliciano Lopez
Defeats
Juan Martin del Potro
This was the match that cinched Spain's 2008 dominance of mens tennis this year. On paper there is no way Feliciano, one of the more notorious head cases on the ATP tour should have won this match. Del Potro had a fantastic second half of the year and despite a nagging toe injury was still thought to be the favorite here. Instead we saw Lopez play the way many observers thought he could play on the fast indoor court and fight his way to a 4-6 7-6(2) 7-6(4) 6-3 victory. A great match to watch