by Savannah
The winners get the top of the column this week starting with
Roger Federer
. Facing his nemesis from last year's indoor season Roger beat
David Nalbandian
like he stole something. He never let Nalby into the match and delivered a beat down that had Nalbandian cursing to himself at the end.
In what has become the post Final tradition Roger is seen feeding the ball kids. Nice gesture.
In what was an obvious relief for her
Ana Ivanovic
played domineering tennis and like Roger, never let her opponent
Vera Zvonareva
, into the match.
With the announcers talking about her still alleged relationship with
Fernando Verdasco
Ana obviously put all distractions out of her head in winning Linz. She should have a postitive mind set going into Doha.
Like him or not I guess we're going to have to get used to seeing
Andy Murray
. He's been the hottest player of the indoor season winning three of the last four events he's played.
This week he added the St Petersburg trophy to his collection. I didn't see the match so I can't say how his opponent played. The scoreline indicates Murray didn't have any problems.
Another man who is not on my list of favorites,
Robin Soderling
, won Lyon this week.
In what appeared to be the match of the day
Elena Dementieva
overcame
Caroline Wozniacki
in Luxembourg. I was watching on my new laptop and for some reason I couldn't get the download I needed to watch from the official site.
Elena has had a pretty good year and I look forward to seeing how she competes at Doha.
Tennis News
It's official. The WTA announced that
Jelena Jankovic
has secured the year end number one ranking. To quote from the release:
ST. PETERSBURG, FL (USA) – Following an intense and unprecedented year-long battle for the No. 1 ranking that witnessed five different players holding the top position, Jelena Jankovic will conclude the 2008 season as the No.1 player in the world, the Sony Ericsson WTA Tour announced today. Jankovic, who will lead the singles competition at the season-ending Sony Ericsson Championships – Doha 2008, will emerge as the year-end No.1 regardless of the results at the Championships. Currently holding 4,555 points in the Sony Ericsson WTA Tour Rankings, Jankovic holds a commanding lead over Dinara Safina (3,782) and Serena Williams (3716), clinching the season-ending top ranking with mathematic certainty.

The 23-year old secured the year-end No.1 ranking by winning 12-straight matches en route to three consecutive titles – the China Open in Beijing, the Porsche Tennis Grand Prix in Stuttgart and the Kremlin Cup in Moscow. As a result, Jankovic increased her 2008 singles title count to four, having also won the Tier I 2008 Internazionali BNL d'Italia in Rome.

"It has been a truly amazing year for me," Jankovic said. "Winning four Sony Ericsson WTA Tour titles, over 60 matches and to make it to two semifinals and a final in the Grand Slams of 2008 is a dream come true. I worked really hard this year and to finish No.1 is where I want to be and where I hope to stay."

"Jelena has had an incredible 2008 season and earned the year-end No. 1 ranking," said Larry Scott, CEO of the Sony Ericsson WTA Tour. "Jelena's entertaining all-court game and off-court charisma have attracted millions of fans around the globe, and helped make this season one of the most memorable in recent memory. The battle for the No. 1 ranking is sure to remain fiercely competitive in 2009, and no doubt Jelena will be among those players vying for the top spot again."
Congratulations to Jelena and her fans.
The WTA also announced that
Venus Williams
and
Vera Zvonareva
will round out the field at Doha. I don't think they'll be asking anyone to fall on their sword so someone else can make the final eight do you?
Of course that's not to say that someone won't withdraw. Hey, I'm just sayin'...
On a Sad Note
My condolences to the family of
Federico Luzzi
who passed away suddenly this week. Federico took ill last week and was diagnosed with an extremely acute and aggressive form of leukemia. He was twenty eight years old.
Antoni Nadal Interview
The out takes - the part of an interview that will not appear in the official version, were published by
Peter Bodo
. Here are some excerpts of the excerpts.

(...)
Toni Nadal is a mentor...When

El Jon Wertheim

and I sat down with him at the US Open to plumb his coaching philosophy and background, neither of us knew exactly what to expect. Even to us as journalists, Toni has been a somewhat enigmatic figure - was he support team, family member, minder, tactician, strategist, emotional anchor? Although he's been a bona fide tennis coach for decades (he once coached the no. 2 junior in Spain), it's almost impossible to get Toni to focus on the X's and O's - so much so that neither El Jon nor I even thought to ask him about strategic or technical issues, except in terms of Nadal's development (Did anybody ever try to change his radical style, we asked?).

When we opened the conversation with a broad question about his strengths and assets as a coach, it opened the floodgates on philosophy of life, rather than philosophy of tennis. And the two most striking words in Toni's first answer were "normal" and "discipline."
(...)
I feel safe saying that you'll be nothing less than astonished at the degree to which Rafael's (Toni never calls his nephew and protege "Rafa") development was more like basic training in life than an advanced education in tennis, with an emphasis on all the bells and whistles currently attached to our views of fitness, technique, nutrition and even equipment. Hail, Toni actually chose to practice on lousy courts with bad balls, just to teach young Rafael that winning or losing isn't about good balls or courts or strings or lights. It's about attitude, discipline, and perhaps most importantly, perspective.



Q: Are you concerned, as a human being, that Rafael is just being driven and pushed like a racehorse, and suffering in other aspects of his life, or education?



A: I was in university, but to me it's not very important. For me, the important thing in life is to have an interest in things. I come here to learn something about American people. I like to see the television, what people are watching. To me, the thing is to be interested, maybe read newspapers. At the moment, young people not too interested in things. Is a pity. But when you spend so much time to be a good tennis player, journalist, business manager, you cannot do much else.
(...)


Q: Are a man like you and a youngster like Rafael comfortable, culturally, at a place like Wimbledon?



A: Well, I have a different concept of life. I believe that all these formalities are just because of where it is, and I understand it. But I like a more normal life, and I think Rafael is a more normal person.

For example, (Carlos) Moya is a very kind person, a good person, but he was here and when he need a car I see that he told his coach, "Phone for the driver." When you get used to doing nothing for yourself, it's too easy. With Rafael, I say in that situation, do it yourself. It's better. This was my work with him.

For me, at the moment it seem that young people have not too much interest in things, because everything is too easy for them. When I have a mobile phone, is easy, all the things. You want meeting with friend, boom-boom, it's done. When I was young, studying in Barcelona, when I came home I didn't know where my friends were. I had to go look for them. Today, it's easier, but people have no great interest in learning and knowing things. This is normal, but maybe not so good.
The full interview will be published in the January/February issue of
Tennis.
Please go
Here
for more details.

Rafael Nadal
was awarded the Prince of Asturias award for sports this past week in Oviedo Spain.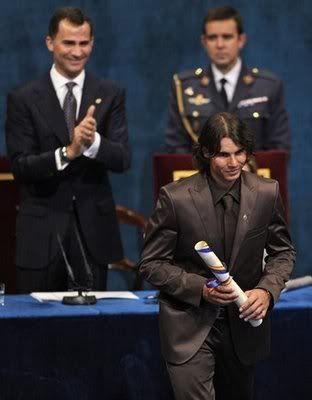 From Wikipedia:
The Prince of Asturias Awards
(Spanish: Premios Príncipe de Asturias, Asturian: Premios Príncipe d'Asturies) is a series of prestigious annual prizes given in Spain by the Fundación Príncipe de Asturias to individuals, entities, organizations or others from around the world who make notable achievements in the sciences, humanities, or public affairs. The awards are presented in Oviedo, the capital of the Principality of Asturias at a ceremony presided by Felipe, Prince of Asturias. The Prince of Asturias Awards were established in 1981. A sculpture expressly created by Spanish sculptor Joan Miró is presented to the yearly recipients.
Congratulations Rafael.