by Savannah
Yes, again. I took a break again this week. This time I was watching the Masters Series event in Madrid as well as the women's event in Zurich once a live feed was up. Like
Flavia Pennetta
I wasn't aware that this was the final Zurich tournament. I guess the event is being kicked to the curb to make way for the new joint ATP/WTA event that will take place in Madrid. Sometimes you get so much information the little details pass you buy. Sorry to see the event go to be honest with you. It's reported that
Beat Ritschard
, the long time Tournament Director, cried during the closing ceremony. It's still amazing to me that other than the fairly weak protest by the Russian women last week nothing has been done publicly among the players to fight for events like this one and Amelia Island, both of which have history for the women.
I posted this a few days ago but for those of us who suffer from CRS (Can't remember shit) here is what the end of the year will look like for the WTA.
Oct 05 - Beijing (MANDATORY)
Oct 12 - Linz (no Top-10 players)
-------- Japan Open (TBC) (no Top-10 players)
-------- Singapore (no Top-10 players)
Oct 19 - Moscow (seven Top-10 players)
-------- Luxembourg (no Top-10 players)
Oct 26 - WTA Tour Sony Ericsson Championships - Doha
Nov 02 - Fed Cup Final
--------- Commonwealth Bank Tournament of Champions - Bali***
Some fans like the splitting of the WTA tour into two. I don't.

Seen and Heard Around Last Week
From
Serena's Blog
Can u guys believe?!!! I'm back!!!

I've been so busy! But I wanted to write something real quick.

I'm in Hawaii surfing, and practicing and having fun!

What do u think of my technique?

Will I come back tonight! I promise to keep u updated!

Why do people always take pictures of my A$$??? Ughhh
Serena is obviously objecting to some pictures taken of her on the beach with her good friend who goes by the name of Common. I won't publish the pictures she objects to here. I happen to like the one I did.
Novak's Big Adventure
Apparently the Djokovic family wants to make sure their progeny has a place to play for quite some time. Maybe Srdjan got tired of berating the Serbian press for not fawning over his eldest son enough. Whatever the motivation they're buying a tournament. Amersfoort has now been purchased by the family and will be moved to Serbia according to
Tennisreports.net
and other sources. If the ATP approves the transaction the tournament will be held in May.
In other news the current family star
Novak Djokovic
is saying in this
Yahoo Article
that he needs more physical strength.
"Physical strength is something I've been trying to focus on lately," the 21-year-old Serb told The Associated Press in an interview at the Madrid Masters. "I'm aware that this has been one of my issues in that I haven't been recovering well from long matches and long tournaments."
(...)
"My game is based on the base line, so I'm running all over the court, stretching, with quick moves, putting a lot of pressure on the body," he said.

With Federer, in contrast, "it's just beautiful to watch the way he plays, the way everything goes with ease."

Djokovic, who was eliminated from the Madrid tournament by Ivo Karlovic on Thursday, said his energy-draining style is one of the reasons he has struggled with injuries lately.

"I don't like how I have got a reputation as a guy who asked for medical timeouts to intimidate opponents," he said. "It's not me trying to provoke my opponent. It's me trying to win."
Ask
Gael Monfils
about how you try to win next time you see him Novak okay?
The Winners Circle
Andy Murray
won his second straight Masters Shield in Madrid.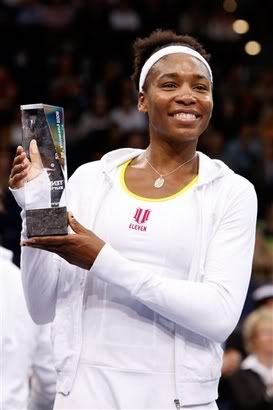 Venus Williams
won the last Zurich tournament over nemesis Flavia Pennetta in straight sets. Since this is the end of Zurich here's a picture from the closing ceremony showing Flavia, Venus, the mayor of Zurich and the Tournament Director.
Thanks for all the great tennis.
Doubles Winners
Zurich
Cara Black
and
Liezel Huber
defeated Anna-Lena Groenefeld and Patty Schnyder.
Madrid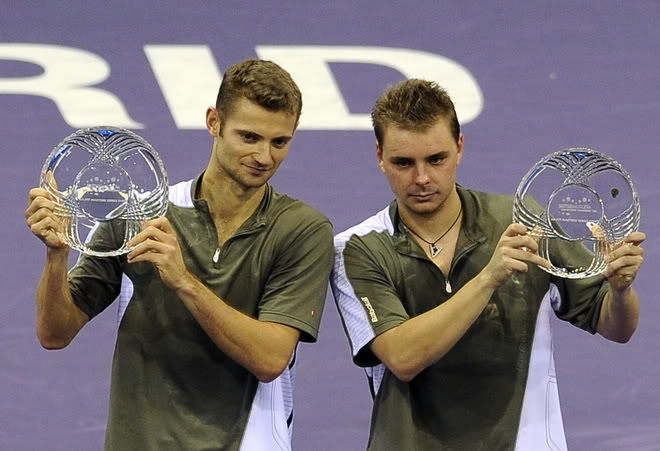 The Polish team of
Marcin Matkoswki
and
Mariusz Fyrstenberg
overcame the team of
Mahesh Bhupathi
and
Mark Knowles
End Notes
It should be mentioned in passing that Venus had to win her match twice. A ball that looked like it clipped the line - no Hawkeye - was called out by the chair
Mariana Alves
. A second ball that looked clearly out was called in. The woman is incompetent. It's nice to know that chair umps like
Lynn Welch
are around. Some give props to
Alison Lang
but I'm yet to be convinced. As for the male chair umpires somehow you know when you see
Carlos Bernardes
,
Mohammad Lahyani
, or
Pascal Maria
you know the chair will only be involved in an extreme emergency. Thanks for the good work.
Year End #1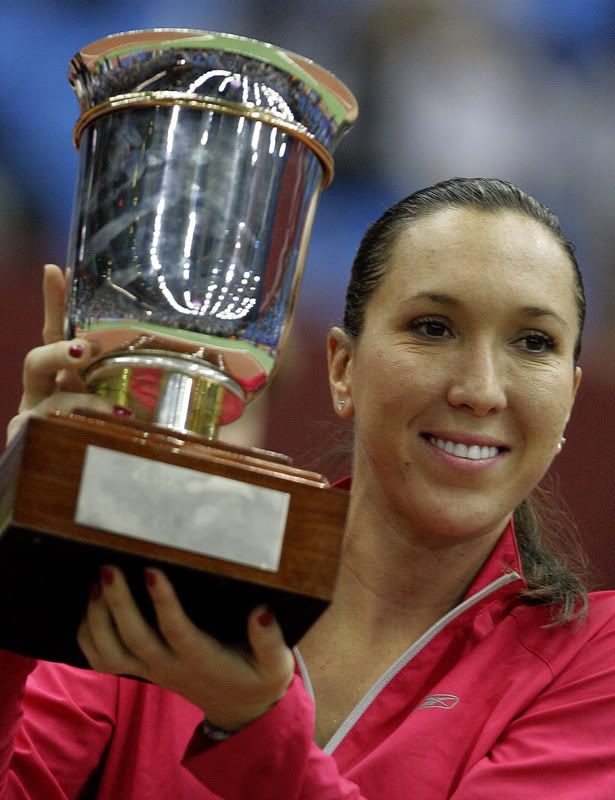 Jelena Jankovic
and
Rafael Nadal
have clinched the coveted ranking. They are the first from their respective countries to do so. There's no argument about Rafa this year is there and despite some misgivings there really shouldn't be one about Jelena. She played by the rules and is ranked number one. Congratulations.