by Savannah
Davis Cup 2008
From the ITF as of 10/01/2008

2008 Davis Cup Final - venue update
Two venues, the Orfeo Superdomo in Cordoba and Estadio Polideportivo in Mar del Plata, have been proposed by the Argentine Tennis Association to host the 2008 Davis Cup by BNP Paribas Final between Argentina and Spain scheduled 21-23 November.

The ITF, through the Davis Cup Committee, makes the final decision about the selection of venues for the competition especially the final. This decision will be made after the completion of site visits to both venues and is likely to be announced by the end of next week.

According to the rules of the competition, there must be a minimum of 12,000 seats for the Final. In the case of both proposed venues, the capacity will have to be increased to meet the ITF's minimum standards and an assessment of the written plans and proposed timetable for this reconfiguration will be taken into consideration as part of the evaluation process before a final decision is made.

The ITF will have no further comment regarding the location of the Davis Cup by BNP Paribas Final until a final decision is announced.
Meanwhile in Cordoba Argentina: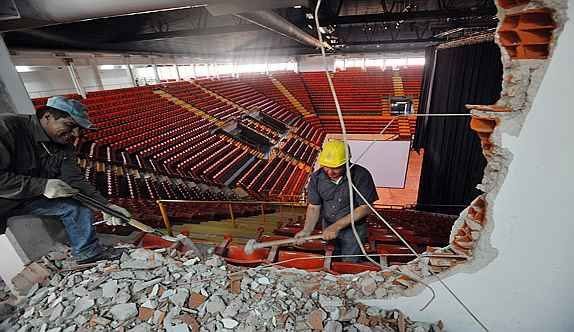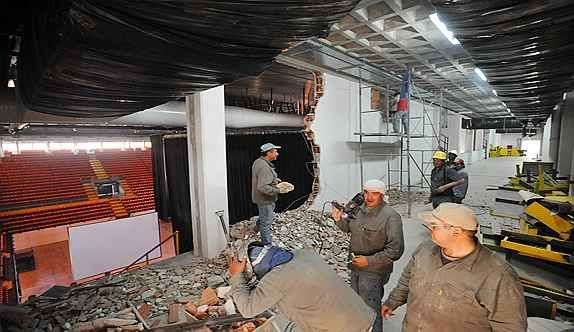 You got it. Work has begun to add the seats that will bring the Orfeo Arena's capacity to 12,000.
The ITF's inspector was photographed in Mar del Plata. She's in the green sweater.
I didn't know that alcohol is not sold in stadiums in Argentina. That doesn't stop the selling of what has been labeled the national drink, fernet and cola, outside of the sporting arenas. What is fernet you ask? According to
Wiki
:
Fernet Branca is a popular brand of amaro produced in Milan, Italy. It is a bitter, aromatic spirit made from over 40 herbs and spices, including myrrh, rhubarb, chamomile, cardamom, aloe, and saffron, with a base of grape distilled spirits, and colored with caramel coloring.
(...)
Because of its mysterious list of ingredients, there are a number of home remedies that call for Fernet-Branca, including treatment of menstrual and gastro-intestinal discomfort, hangovers, baby colic, and (formerly) cholera.
(...)
Wildly popular in Argentina, it is often taken as a national beverage. The most common preparation is with Coca-Cola...

Fernet has recently gained popularity the Czech Republic where it is served as a shot, or with tonic in a tall glass.[citation needed]

The drink has been popular in San Francisco since before prohibition...
Fernet Branca and coke, Argentine style.
Alrighty now. Read tennis blogs and learn all kinds of good stuff. No wonder they're all fired up when the matches start.
Many fans looked at the
Juan Martin Del Potro
vs
David Ferrer
match in Tokyo as a Davis Cup preview. Long story short, Ferrer will not play JMDP unless it's a dead rubber and I can't imagine Argentina playing JMDP in a dead rubber.
Got the picture binky? Good. In my humble opinion
David Nalbandian
is going to play the first singles and Del Potro the second. I don't think it's going to matter what Delpo does in Europe during the indoor season, Nalby will play the first rubber. David has been very vocal and been the players spokesman since Argentina beat Russia and it's obvious he considers himself the top Argie. If rumors are true and he's having hip surgery at the end of the season - read after Davis Cup - then he wants to do very well here. Captains Mancini and Sanchez have some interesting decisions ahead of them.
Sportsmanship and Tennis
In a move tennis dads like
Srdjan Djokovic
and
Yuri Sharapov
surely envy
Ricardo Sanchez
, coach of the women's number one
Jelena Jankovic
pulled the stunt of the year. Maybe I'm getting ahead of myself. The stunt of the year goes to Mr. and Mrs. Djokovic for siccing security on French fans during the Oz open. Second stunt of the year happened with the same pair having to be told to shut up by none other than mister cool, calm and collected
Roger Federer
. Still Sanchez' actions during Jankovic's match against
Venus Williams
in Stuttgart today has to rank in the top three for the year.
What did he do? Well aside from not even trying to hide that he was coaching his charge during the match he actually pulled out a stopwatch and from reports I've read waved it around to protest how long Venus was taking between serves. I didn't see it so if anyone did please let me know exactly what he did. I haven't been able to find any pictures of the incidents either.
I do know that among those who did see it there is nothing but contempt being piled on Jankovic, and in a surprise, her sainted mother as well. Some are blaming the chair umpire for not taking control of the match. Others say Jelena's whining about too much time while on her serve she wandered around behind the baseline, wiped her face, blew her nose and otherwise dawdled is in pot meet kettle territory. Tennisheads also disliked her calling a medical time out up 5-2 in the third set.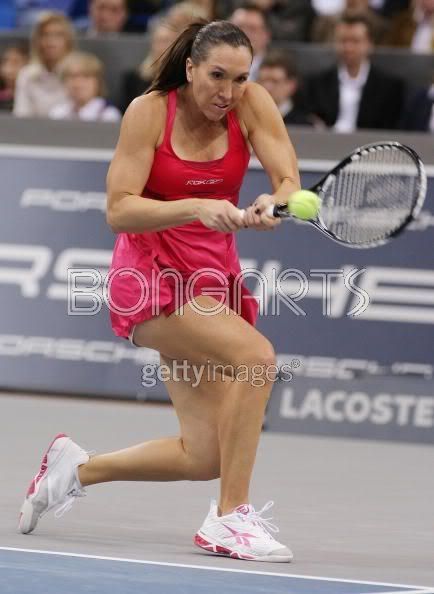 Regular readers know I started out as a fan of Jelena because of her tennis. She has improved her game and is playing very good tennis right now. But all the bullshit has turned me against her. I can't appreciate a player's game when they're limping one minute and running like a gazelle the next. Longtime tennis fan "Foxylicious Khat" posted the following on the women's tennis site
Tennis Forum
in response to a fan saying that
Richard Williams
has probably done something similar in the past.
Tell us about these questionable things. And please let then relate to tennis on court because, nobody is talking about what Richard has done away from tennis matches so please spare us. We are talking about JJ on going antics on court, her injury timeouts at times that benefits her, her whining for the most insignificant things. This we all saw and that's why we can talk. I will never forget her something's in my eye tirade at Wimby last year against Marion, pulling out her compact etc. And then add her coach's behaviour today to this is beyond ridiculous.

It is true that no one is perfect but until Richard pulls out a stopwatch, shout at Venus and or Serena's opponents, etc DURING A MATCH then anything else is out of the question, as it relates to tennis and what happens on the court.

Foxy
Not much more to say is there? Jelena has the most points and will take over the Number One ranking as of Monday. Funny isn't it that her ascension has caused tennis fans to start questioning how rankings are determined in the WTA.
The Sick Bay
Former Number One
Justine Henin
is having knee surgery next week according to this
Belgian
site. I say she'll be back next year. Just a hunch. (Insert that winking smiley here.)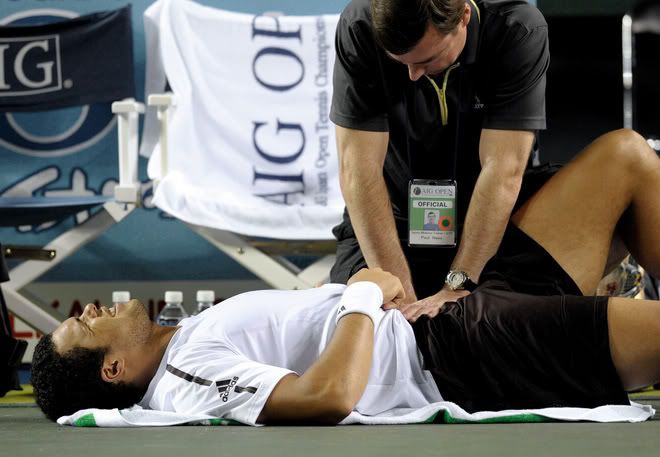 Love or hate his style of play I don't think any fan of tennis wanted to see this. Whatever chance
Jo Tsonga
had of making it to Shanghai may be gone now. If Delpo wins against
Tomas Berdych
in Tokyo he will be number eight in ATP rankings.
Tennis Talk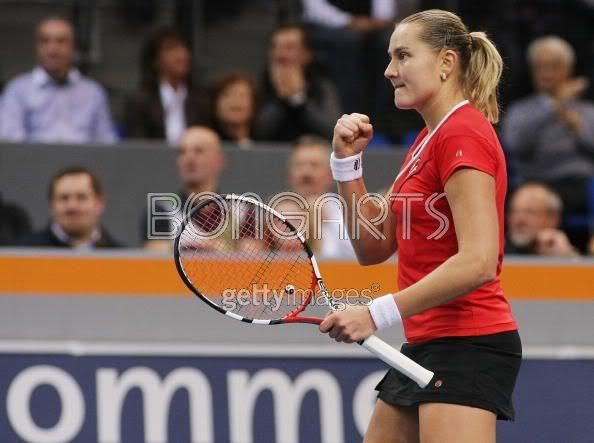 Nadia Petrova
has quietly moved back up in the rankings. She doesn't make a lot of noise as she goes about her business but the woman has fought her way back and deserves a shout out for her tenacity. A win in Stuttgart will be a nice way to say to the tennis world that she's back.
The final in Tashkent(WTA IV) will feature
Sabine Lisicki
of Germany against
Sorana Cirstea
of Romania. In Tokyo
(WTA III) Denmark's
Caroline Wozniacki
will play
Kaia Kanepi
of Estonia. It'll be nice when an up and coming junior from the States will be making finals like these.