by Savannah
It's the end of the official season and everyone is doing ranking and rating so why wouldn't I? Top ten lists are a pain because they're subjective. How did I pick my top ten?
Who accomplished the most in terms of her career this year? Who ended up in the top ten to the surprise of almost everyone? Who got a high ranking despite play that was jaw droppingly bad at times? Can you have the worst year ever and still remain in the top ten? Did you play yourself into the top only to realize how rarefied the air is up there and falter? Who is hungry enough to walk over the bodies of those in front of her in her Christian Louboutin stilettos?
And who should tennisheads be looking out for in 2008?
Let's agree to disagree and talk about the Women of Tennis and how they fared in 2007.

Serena Williams
I'm placing her at the top because she came back from so far down this year. She won the Australian beating Maria Sharapova convincingly and then followed up with a good spring season in the States.
In my opinion she should not have played the US Open. But she did, fighting through the same injuries that brought her low in Madrid. People always say that Serena is not dedicated to tennis. Too many outside interests. Blah, blah, blah. Her gritty determination this year earns her the top spot.
Venus Williams
She won Wimbledon despite everything but the kitchen sink being thrown at her. Then again I just may have missed the sink. Instead of coming back to the States and resting on her laurels she played a full schedule which included World Team Tennis and the Fed Cup where she almost single handedly beat a great Russian team. After the US Open she played a full Asian swing despite the injury issues that were cited as the reason she pulled out of the YEC in Madrid.
No way she should have been in the mix at all this year but she was.
Justine Henin
I place her third because she was already at the top of the heap and managed to stay there earning herself another Player of the Year award. Justine has, despite her size, been hitting the ball as hard or harder than the Big Babes of tennis. She has also shown stamina and endurance that bigger and seemingly stronger women don't exhibit. During the Final in Madrid it was Maria who was visibly tired in the end. Justine looked like she could play another two sets.
She plays a limited schedule (she has already announced that she may not play the Olympics in 2008) and makes the most of it.
Marion Bartoli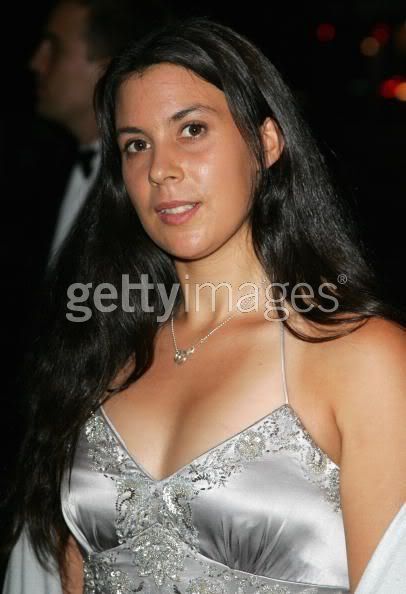 She's been around like forever. Her father is considered a "mad scientist" among tennisheads for his unorthodox training techniques. He was the one who encouraged his daughter to put on weight but she seems to be shedding some of those pounds in an effort to be more fit.
Her big win this year was of course at Wimbledon where she played the Final against Venus Williams who was not going to be denied this year. I think she's had some issues adjusting to the pressure of being among the top women players in the world. I look for a fitter, and more mentally tough Marion next year.
Anna Chakvetadze
This woman with the long long hair and the face of an angel has shown that she has the will and drive, and the game, to take her to the heights of her sport. Of all the top women to me she is the most "gangster", the one who doesn't try to hide her naked ambition behind a nice demeanor. I'm sure her handlers will tell her to tone it down so we may see a more demure Anna next year.
Oh, and she played some fantastic tennis this year. She makes it look like she's not doing anything and then you're on the wrong end of the score against her. It took me awhile to see what she was doing. I see it now and look for her to make a big move next year.
Jelena Jankovic
We love to tease Jelena don't we? She's played so much tennis this year it's a wonder she knows where she is at any given time. The problem is that by the time the US Open rolls around she is already on a down turn. She even had a melt down in Bali during a match against a resurgent
Lindsay Davenport
. But she deserves to be in the top ten both in official ranking and on fan lists. Let's see if she makes the mental adjustment to being at the top of the game and plays a much saner schedule next year.
Ana Ivanovic
The Katherine Hepburn of tennis played her way to the top of her sport. I don't rank her higher because when the pressure was on during a match she seemed to wilt in the heat. Her big claim to fame this year was that Maria Sharapova seemed not to want to play her and did all she could to avoid doing so. It all turned out to be moot but this young woman, like Anna Chakvetadze, has the will and the drive and the game to stay at the top.
Maria Sharapova
Despite a shoulder injury that seemed to come and go depending on what was going on in a particular match she held on to a top ten ranking by the tips of her fingers and played extremely well at the YEC. All things being equal she would have won that Final but that is why matches are played on the court and not in the blogosphere.
By every other measure though she had a horrible year not winning a major, going out in the third round of the US Open and managing one solitary win against a tired opponent in California. Next year will be crucial for her.
Nicole Vaidisova
Illness laid her low this year but she's still on my list because despite her illness she had a decent second half of the year and is poised to challenge the Big Babes next year. I still see her as having a better game than either Ana or Anna but she needs to keep her emotions under control. She is the youngest on my list and I think that next year barring illness or injury she'll be among the elite of her sport.
Svetlana Kuznetsova
I saw a match this year where Sveta played fantastic tennis. She was hitting on all cylinders and blew her opponent off the court. The next day she looked as if she'd never seen a tennis court before and left me wondering which player is the real Sveta. It's sad when she is ranked second in the world after Justine and no one expected her to make the semi finals at the YEC. She is still young, 22, and it's possible that like Martina Navratilova did back in the day, she'll get herself under control and play to her potential.
Honorable Mention:
Agnes Szavay
I do hope that Agnes is able to play a full schedule next year. Serious back problems shortened her 2007. This girl has some serious talent and can give the older stars fits. She's needed on the tour
Aggie Radwanska
She beat Maria Sharapova like she stole something at the US Open surprising everyone. She is also very young and didn't have a great second half of the year. The potential is there. I hope she's up to the challenge.
Tatiana Golovin

All the talent in the world but injuries shortened her season. She's shown herself capable of playing at a high level. I do hope she's able to play a full schedule next year.
Shuai Peng
After Li Na went down with injury this young woman stepped up to the plate for China and had very decent results the second half of the year. She is a dark horse for next year.
Chan Yung-jan(Latisha) and Chuang Chia-Jung
This doubles pair has put themselves firmly in the mix and can only go up in ranking.