With the mens draw knocked on it's heels by Tommy Haas withdrawal from his fourth round Wimbledon match against Roger Federer who gets a walkover to the quarters I thought it might be nice to see what else is going on in the wonderful world of tennis.
Romper Room Update
Boris Becker
, working as a commentator in London has said the Brits need to stop giving wild cards to it's underachieving players. To quote Boris:
...Becker told Five Live's Sportsweek: "Wildcards are given to people in their early 20s. That is the wrong signal.
"If a 22-year-old needs a wildcard all the time then maybe the player is not good enough to be a professional."
The German added: "The ones that get the wildcards are in their early 20s and that's when you are supposed to have made it already as a professional.


"If you are not in the top 150 in the world by the time you are 23 or 24 then maybe you should look for another job."


Tim Henman and Lee Childs, who made it through qualifying, were the only Britons not to require wildcards into the main draw, although Andy Murray would have been there too had he not been forced to withdraw before the tournament started because of injury.
BBC Sports
Sampras To Return?
There are some fans who pull stuff out of their asses just to up their post count on their favorite message board. There are other fans who post items that always seem to have a kernel of truth in them. The following is in that category and is posted by "Angiel" on menstennisforums.
Sampras has reportedly stated the following:
"I have a hard time watching how these guys play today," he said. "It's just amazing that everyone stays back and hits with so much spin. When you put spin on the ball on grass, it doesn't really do anything."
If this pans out I hope Sampras gets a chance to play a little on the grass at Wimbledon before finalizing his plans and sees what everyone who has played on and observed play on it knows - it's not the same grass from your time Pete. Stay retired, play the Seniors Tour and an exo from time to time but let your lasting image in the collective tennis mind be that of a champion.
Note to Networks:


When your commentators can be categorized as either "tards" or "nuts" (see below) and are said to be unable to refrain from gushing all over themselves when certain players take the court you've got a problem. We Americans tend to revere the BBC announcers but apparently they're not immune from fan-itis either.
Then there is the guy who people think is in the process of having a mental meltdown. He is very uncomfortable to watch.
And to the commentator who can't tell the difference maybe this will help.
This is
Venus
. She's the tall lanky Williams sister.
This is
Serena
. She's the one built like a brickhouse. Note the assets of Serena Williams.
Please label these and keep these in front of you at all times. Thank you
Of Tards and Tennis Part Deux
Sykotique
has already given newer fans of tennis the definitions of fantards for the top male players. The list is completed below with the definitions of the nuts who obsess over the top women. For the men's list please go
Here
Please keep in mind that there are tards and nuts for almost every top player. To list all of them would require a website. Also keep in mind that different boards have different names for the same player. Some fansites now list their own names for players so that newcomers aren't confused.
The Heninuts
are as competitive as their idol - Justine IS the most complete tennis player in the world, 8 titles and Career Slam be damned!
Because of their love for her beautiful one-handed backhanded and her
determined "Allez!"s, the Heninuts have been known to turn a blind eye to
some of the former double-barreled last name's kind antics on court - for
example, graciously giving a 'hand' to her dear colleague Serena Williams
while she was on serve at the 2003 French Open and saving good friend Amelie Mauresmo from having to tough out a 2 best of 3 sets match under the hot Australian sun in her first ever Grand Slam final. Heninnuts are of the opinion that Justine plays the beautiful game the way it should be played and can win Wimbledon when she feels like - she just doesn't feel like yet.
Add to that, their baby is the Queen of Clay, which means that power players like the Williams and Pova ain't welcome. A plus tard!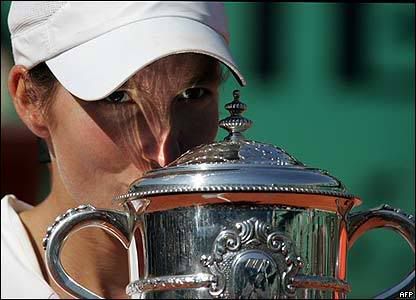 2.
The Povanuts
are perhaps the most superficially driven sports fans of all and generally constitute either perverted old men or young, impressionable girls, which is understandable, because if Maria was to be appreciated for her game, she probably wouldn't have that many fans. No offence, Ms.Sharapova can play when not much thinking is involved, but put her in a position where she can't hit a power shot, and you've pretty much won the point. They are besotted with her long legs and her endorsements ad infinitum. Her shrieks make her a tennis fan's nightmare, but her Russian looks and American ways make her an advertiser's dream and a pre-pubescent tennis male's wet dream. She's the "It Girl" of tennis, even if only because everyone else besides the Povanuts have been forced to watch her commercials. Maria feels pretty and that's all that matters to her fans -the rest of the WTA are just jealous bitches!
3.
The Serenuts
have one and only one belief - Serena Williams is the most talented tennis player in history. End of story. No discussion. Case closed.
They are the most gracious in defeat because Serena has never lost a match
that she couldn't have won - ergo, the only time she loses is when she beats
herself. Perhaps Ms. S. Williams does beat herself more than anyone else,
but maybe that wouldn't happen if she dedicated herself to tennis, instead
of putting it behind her other careers, which seem to include acting,
fashion designing and anything else that will make more money in one week than a tennis tournament. But for Serenuts, there's nothing to forgive cause Serena's done nothing wrong. This girl is the saviour of American tennis and don't you elitest punks ever forget it!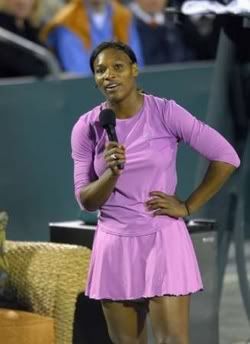 4.
The Amelienuts
of the WTA are a lot like the Safinettes/Maratards of the ATP - they accept that Mauresmo is amazingly talented. They also accept that she's an irrefutable headcase. They make no apologies. They suffer, all year round, waiting for those few weeks, even those few matches in which dear Amelie will showcase her beautiful strokes and then, she will realise she is winning and go back to fearing success, as she usually does. Amelienuts are convinced their darling is a hopeless underachiever, who will someday overcome her demons to become a consistent and dominant force on the WTA some day - but today is not that day. She is beautiful human, with both her on-court and off-court issues and the fact that she struggles with these demons makes them love her even more. They live for her triumphs and gasp at her sorrows. They are, almost always, highly emotional women.
5.
The Hingisnuts
- oh boy. Delusional is a harsh word, so I'll replace it with "brutally optimistic." As far as they're concerned, Martina of 2007 is
the same Martina of 1997, just 10 years older - righttttt. For the most
part, Hingisnuts really do appreciate good tennis - but only when Martina
plays it. They live in (denial) hope that she will replicate the form with
which she burst onto the scene as a teenager and dominate the tennis world
that is rightfully hers. They ignore the fact that today's players hit
harder, run faster and some of them are even *gasp* smarter than their dear
little Martina. In many respects, they take after their darling, whose own
misconceptions about her status in the tennis have to be considered the
product of the 3-year hiatus she took away from the tennis world after 1 too
many beatdowns from athletes that were simply more gifted. But if it is one
thing about Hingisnuts, it is that they are indomitable - (denial) hope
springs eternal and Martina WILL rule the tennis world again!
Observations
I watched the
Juan Carlos Ferrero
vs
James Blake
match the other day. While Juan Carlos, known as Juanqui to his fans, seems to finally be over the injuries and illness that have plagued him the last few years Blake seems to have gone back to the style of play that made opponents smile when they saw him in their part of the draw. From the second set on Blake behaved like a two year old who has just been told he can't have his favorite candy treat. Ball bashing, mumbling, and all around poor play made this match almost unwatchable. I say almost because Juan Carlos was playing fabulous tennis.
I contrast Blake's performance in that match to that of Feliciano Lopez in his match against Jo-Wilfried Tsonga. F-Lo played the match of the tournament so far winning a best of five two day marathon against British hope Tim Henman. When I heard that Tsonga had won I put it up to Lopez being drained. I was wrong. Lopez never stopped trying during his match. If something didn't work he tried another idea. This is what tennis is supposed to be about. Lopez was competitive up to the end. The expression on his face at the net let you know that he had come into this match with high hopes but he was a gentleman. Whatever emotion he felt was released away from the cameras.
As for Jo-Wilfried Tsonga, a kid who looks scarily like Muhammad Ali he is the man to watch, the dangerous floater in the top half of the draw. This is especially important now that the top half of the draw is set for the quarters and the bottom half hasn't even begun to play their fourth round matches. His match has now been moved to center court where it belongs. Jo-Wilfried made a lot of new fans the other day. Let's hope the butterflies in his stomach don't stop him from playing his game. He does make me nervous sliding on grass though!