By Savannah


Yeah there was a lot going on this week -
Roger Federer
has a new teenaged hitting partner - one Mr. Jesse Levine of Boca Raton Florida flew to Dubai to practice with the world number one. And yes he's a lefty. And while he is Jewish there were apparently no issues about his going to Dubai. Jesse spent ten days in the oppressive heat practicing with Roger. Does this mean
Jonathan Eysseric

is only his clay court go to person?
Jesse Levine Goes To Dubai
Carlos Moya
ignored the brouhaha about his new lady love and made it to the Final at Umag.
The younger Mr. Djokovic,
Markko
, didn't make it out of Qualies but then his famous brother didn't make it past the first round at Umag either.
Japan seems to have a young phenom on their hands as
Kei Nishikori
made it to the quarters at Indiana.
Gaston Gaudio
is playing qualies at Sopot.
Sania Mirza
appears to have found her game. And I finally got to see what all the fuss is about regarding
Anna Chakvetadze.
In her semi at Stanford against
Daniela Hantuchova
she came back to take the first set from 2-5 down to a tie break which she lost but she won the next two sets in convincing fashion, 6-3 and 6-2.
Jelena Jankovic
has not played since Fed Cup. Is this the first vacation she's taken since...well just fill in the blank. She'll be back in San Diego.
Despite doing all the PR and representing tennis in Los Angeles
Serena
Williams
thumb is not any better. The swelling seems to have gone down (see the Beckham party pics) but it's still in a light cast when she's at less formal events.
Venus Williams
released pictures of herself training at the UCLA track and then having lunch with a friend. No pics of her holding hands with her boyfriend this week.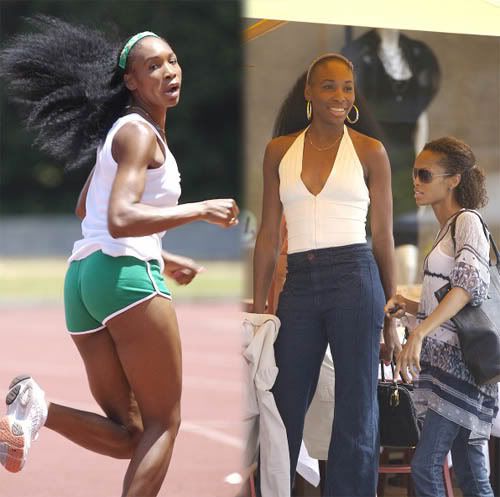 The French women put on another chapter of "As The Ball Bounces" this week. The featured players were Maid
Marion Bartoli
and
Tatiana
(Barbie)
Golovin.
The Russian born Tatiana declared herself more French than the French born Marion. This all started when Marion did not play for the French Fed Cup team because she wanted her father to coach her. That was not about to happen and it's been fun fun fun since then. There is no truth to the rumor that a mud wrestling match will be held between the two women to decide things. Sorry guys. By the way neither woman made it to the semis at Stanford.
Vince Spadea
sported a leopard print man bag during his matches. Metrosexual was not the word that came to mind upon seeing it.
All of this is fun and interesting as the Road Trip continues but the main question still remains the one asked by a poster on the ESPN tennis board - "What Is Going On With Our Guys?" by fan " ctl alt del".
James Blake
went down to
Radek Stepanek
in the Final last week and to up and coming fellow American
Sam Querrey
this week in the quarters. The biggest blow was not these two losses but
Andy Roddick
going down to
Frank Dancevic
of Canada must have driven some folks right over the deep end. Dancevic drove from his home in Niagara Falls at the last minute to play and will now face
Dmitry Tursunov
in the Final at Indianapolis. The
USTA
, rumored to be considering using US Open Series play to assign seeds at the US Open must be in total shock at this point. I don't think that in their wildest dreams they saw a Czech player, a Canadian, and a Russian who wanted to play for the United States but was allegedly given no support by the USTA in the running to win the US Open Series. I have the feeling that trial balloon just deflated somewhere over the Pacific.
The Series, instead of showcasing American tennis at it's best has instead exposed it's flaws. Dancevic didn't destroy Roddick as much as simply outplay him. Andy was hitting the ball well, working hard, and doing his thing. It's just that the rest of the players know what his "thing" is and how to get around it. When hit hard and harder doesn't work there is no Plan A, B or C. The problem is when his team gets Andy to try something new, and his opponent predictably fights back Andy goes back to hit hard and harder. One of the commentators mentioned that Andy looked up at his box asking them where Dancevic's play was coming from. I wonder if Andy had already put this in the win column and found out, to his chagrin, that there was a real player with real tennis ability across the net, a man who was simply playing his game and adjusting to what Andy was doing. I know lots of Andy fans. I wonder if their guy can make the changes he needs to in order to stay top five.
As for Blake the player he was before 2005-6 is back. Tentative, mentally weak, and unable to mount a coherent strategy Blake is in danger of falling out of the top ten after making it to Shanghai last year. I never got on the Blake bandwagon when he was doing well. It's already being noted that Blake has not beaten a top ten player this year. Like another famous ball basher the quarters, when he comes upon the higher seeded players, have become his Waterloo. That other ball basher? Well she does make it to the semi's from time to time though.
I know fans of grass and hard court tennis (I can stand the hard courts and appreciate the skill set a player needs to master it) are sick of hearing me say it but until American players learn patience, point construction and strategic, adaptive play we are in trouble for the foreseeable future. We used to produce players like that.
Michael Chang
,
Jim Courier
and
Andre Agassi
come to mind. During the Hantuchova/Chakvetadze match the commentators discussed how
Chris Evert
changed her serve to keep up with the changing times brought on by
Monica Seles.
Why have we stopped producing well rounded players? Sam Querrey served up 34 aces, a record, in his match yesterday. To me that personifies what is wrong with the style of tennis Americans are playing today.
Meanwhile the European and some South American players, except for that guy hanging out in Dubai are playing their optionals on their surface of choice, clay. Some veterans gathered ranking points to improve their seeding at the US Open and some new faces made tennisheads sit up and take notice of them. The Big Girls, minus
Justine Henin
and
Amelie
Mauresmo
, who never play California, will be in San Diego this week. A depleted men's field will be in the heat and humidity of Washington DC.
By the way if you were wondering what some players do to get ready for the summer hard court season here's something to satisfy your curiosity...
So as the new week starts one has to wonder if another chapter of "As The Ball Bounces" will be staged or if it will be all about the tennis, which is, in the end, what it should be about.