8/6/2007
There's a lot of talk about scheduling and how it affected the final edition of the Acura Classic which was won by Maria Sharapova. Much has been made of the fact that her last three opponents, Sania Mirza, Anna Chakvetadze and Patty Schnyder faced the Russian player under less than ideal circumstances. All of them had played night matches prior to facing Ms Sharapova in the heat of the early afternoon Southern California sun.
The argument about cupcake draws is an old one. Some believe that certain players are favored. Others maintain that the draws are random and cannot be fixed. Surprisingly the following was posted by "9Rex549" on the
ESPN Tennis Message Board
and deserves wider airing. I leave you to draw you own conclusions.
Note that MSNBC on their website for tennis maintains a site entitled the


"Sensational Sharapova"

that has been kept there since the '06 AO. Even though for the '06 year Amelie and Justine were the best players and for '07 thus far it's been the Sisters and Justine.

As the last sentence in the above rule states,

'the "tournament director" determines what is in the "best" interest of the "fans".


So, the tournament director, buttressed by Corporate America, influencing the WTA and ESPN/NBC through purchasing commercial ads, has determined that in "our" best interest as fans, 'Pova is the player that "we" desire to see in each tournament, whether in person or via the tube, challenging for the title and it's our responsibility as the tournament director, the WTA, w/ESPN/NBC that "we" get this "chance" to see the "sensational" Sharapova squealing her way to the championship, justifying the corporate hype. Thus, the "cupcake" draw conspiracy theory becomes apparent. To iterate, tell the big "lie", continuously repeat the big "lie" and we, as fans, will eventually "get it", even though tennis results for the years '06 and '07 suggest otherwise.
8/7/07
In the category of "never in a million years".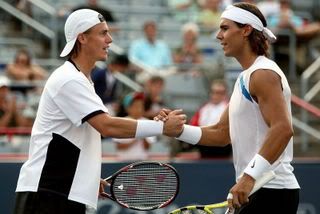 Rafael Nadal and Lleyton Hewitt doubles partners at the Roger's Cup.
Note:
Rafa said he couldn't understand a word Hewitt said on the changeovers. Ha Ha.
Hewitt said he's running out of English speaking guys to talk to in the locker room. Treated as a ha-ha by PMac and his cohorts.
They won their first match 4 and 4 after a slow start.

8/9/2007
And now for this weeks edition of
"As The Ball Bounces"
Jelena Jankovic
may have had fatigue issues but her tongue is doing quite well thank you.
"She's still the No. 2 player in the world, and only winning one title is not something I think you should see from the No. 2 player in the world," Jelena Jankovic, who is ranked one spot behind Sharapova despite winning four titles this year, said Monday.
Needless to say Ms Sharapova did not agree with Ms Jankovic's assessment of her ranking and performance.
The rankings are done based on tournaments," Sharapova said.

"I definitely deserve to be No.2. I've won two Grand Slams. I'm ranked No. 2 and she is ranked No. 3, and that's based on criteria that has been in place for years."




London Daily News
Stay tuned.
The Davydenko Affair
I expected the press to behave like ravenous beasts when they finally got a chance to talk to Nikolay Davydenko about the betting irregularities in relation to his last match and how he fit into the picture. Instead they were quite tame, and Nikolay, to his credit, answered their questions. No one would expect him to incriminte himself and he didn't - sticking to what has become the official ATP line that someone on the inside had to have used knowledge of his injury to place the bets.
It's a decent position and one that will buy the ATP time to allow it's externally led investigation to proceed. I expected them to keep Davy away from the press. To his, and their credit, they didn't.
Rogers Cup
Despite all the bitching and moaning in United States tennis circles the big boys came to play in Montreal. Some of the early round match ups could have easily been quarterfinal matches. The level of play has been excellent, and there have been some surprises along with some business as usual. Tournament is ongoing but I have to give credit to the ATP for putting on a first class event on the court and from the talk off the court as well.
The WTA event which will be next week in Toronto is a different situation. The pre tournament withdrawals are like a who's who of women's tennis. Serena, Amelie and Nicole have all withdrawn with injuries.
People may not like the Pova gil but if she plays and does well here no one can say anything about the level of competition. I don't quite understand why the women don't like playing Canada. The schedule is not onerous coming into it or after it. Makes one wonder what is really going on.
You Wanna Piece O' Me?
Want to start a riot on a tennis board? How about bringing up, in no specific order, Roger's weak draws, his narcissistic tendencies and how today's players, with one or two exceptions are already on their knees to him before they stand across the net to play him. Bored already? I know, yada, yada, yada. "The Truth" managed to give an entirely different perspective on this argument with the following post on
All Court Game
Read it. Think about it before you make your next post on a fan board flaming or embracing the man some call the FedGd. Or the Fedbot. MV is not amused.
TheTruth: Hewitt, Haas, and Safin, the potential threats can be dismissed in the Roger debate, because all of them have been injured and coming back off of injury for the last three years. Coincidentally, during Raja's reign. That leaves us with green, inexperienced young boys having to pick up what the veterans, due to lost time can't. Then, there's the sub-group of Blake, although he too was injured, Ljubicic, Robredo, and Davydenko who it's doubtful would be winners in any era. That's what makes Roger's "dominance" laughable. Most of the top ten have never even been in a grand slam semifinal except Davy, and we all know how he performs as he gets closer to the door. It burns his hands. So, who is Raja supposed to be so great against? The competition is the standard.
Goodbye to a Legend
Most of us have never heard of this gentleman but after reading this I'm sure you'll all be wishing you knew him. Good Luck in your new life Mr. Lemay
Farewell To A Quiet Legend
8/11/2007
This just in!
Martina Hingis
and
Radek Stepanek
have split. Radek announced this after his semi final loss in Montreal today. Now if you didn't see this coming I've got a great land deal for you in Florida...
End Notes:
More Things I Never Thought I'd See
I can say that I've seen two things in my tennis viewing life this week I never thought I'd see...
Elena Dementieva
serve an ace and
Maria Sharapova
make a successful drop shot. Will wonders never cease?
Has the Grand Dragon Arrived Yet?
Fernando Verdasco
, annoyed at fans during his Montreal appearance on Thursday August 9th asked what country he was in and then declared that it must be Africa. I could expound on this but I won't. I'll let Fernando and
Boris Pashanski
, who declared a Brazilian player to be an ape, enjoy things in their own little world.
As The Ball Bounces Part Deux
Apparently
Justine Henin
has found love again. The lucky man is Grégory Philippin, a Belgian politician and friend of her brother. Here's his picture.
More on Davydenko
This article was posted by "Alsace" on
Mens Tennis Forums
I think this is the last word on the Davydenko situation until the results of the probe are released.
I suspect the betting community has more interest in getting evidence than does the ATP or the tennis industry itself, which wants to see the story forgotten quickly. But the betting community doesn't need to get evidence suitable for trial. All it needs is enough info to know where, and where not, to put its money.

Tennis.com has this today. The author/source is given as onthepunt.com.

Tennis.com may have commissioned this report on suspicious matches, because the article is only on tennis.com, not on onthepunt.
Betting Patterns and the ATP
Some Are More Equal Than Others...
I was all set to post this long treatise asking why the women won't play Canada when the news broke that
Maria Sharapova
pulled out of her semi final match against Nadia Petrova citing a preexisting shin injury. Supposedly this injury happened just after or during the Australian Open and had gone away until two hours before the match tonight.
Now I don't claim to be the sharpest knife in the drawer but she said that various treatments were tried including acupuncture to see if the discomfort would go away. Acupuncture? And Pammy was eating that crap up.
I suspect Maria got Ana-itis and knew she'd be playing someone who would take her butt to the cleaners in the final and decided she'd better rest up for her cupcake draw to the US Open final.
Yes, I said it. And I call bull shit.
In a perfect world she'd get the same treatment Serena Williams got for withdrawing from IW a few years ago just before she was scheduled to play but I doubt it. Her apologists are already saying she spoke to the crowd and that makes it all better. More realistic fans are asking if the fans who paid their money expecting to see a women's singles semi will get their money back. If you think that will happen I refer back to that land deal in Florida I offered you before.
Meanwhile ESPN has posted that
Novak Djokovic
has beaten
Roger Federer
four times. The truth is the exact opposite.
Looks like some new designer drug has hit the streets.