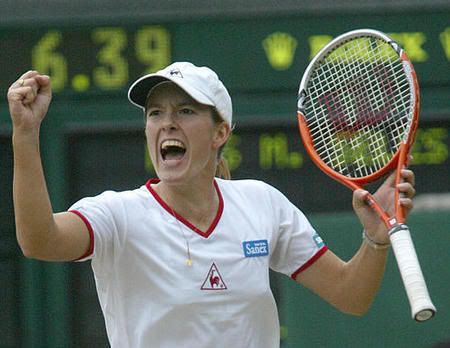 The women's draw. Everyone but an ill Amelie Mauresmo is showing up. In the past I've accused the WTA/IMG Powers That Be of assuring their darling Maria Sharapova has an easy ride at least to the quarters while pitting anyone who could threaten her against each other along the way.
But things haven't been going the way TPTB have anticipated so far this year. Pam Shriver would say that Maria has the "yips". There's no need to rehash what happened in Melbourne. If Maria's serving woes haven't been cured she's in for a rough time.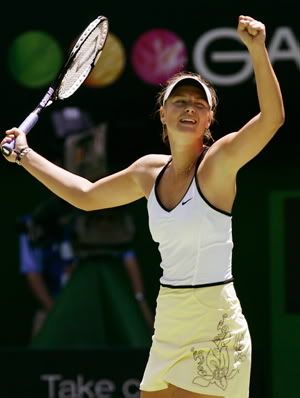 There is also no need to go over the inevitable appearance of Venus Williams and Serena Williams in the same part of the draw. Some are arguing that it's the lack of play and their ranking that has set this situation up yet again. I would call bullshit but I've done that so many times anything I would say sounds boring and repetitive.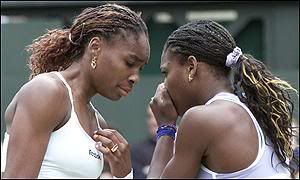 But this draw is funny. All of the power and finesse, all of the big babes, are in the top half of the draw.
Hingis. Ivanovic. Serena Williams. Venus Williams. Shahar Peer.Kuznetsova. Vaidisova. Schnyder.
Even the up and comers are in this part of the draw. Kirilenko. Bondarenko. Schiavone.
Garbin. Dulko. Bartoli(Yes Bartoli gets a mention.)
So who's in the bottom half with Justine, the new number one?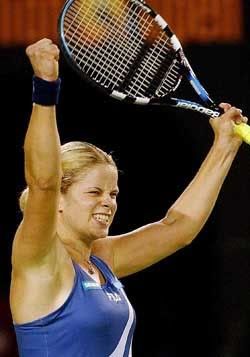 Let's see. There's Vania King, new to the tour and who's been thrown under the Henin steam roller before. Li, who had a good run at the Pacific Life Open but is in a quarter with Molik and Srebotnik. Golovin and Chakvetadze are primed to face each other. Clijsters would face Stosur and if Kim was more match fit I'd pick her easily. She's admitted she's focused on her wedding. I think she'll beat Stosur but it'll be a tough match. Petrova and Safina, the reigning Queens of the Headcases are here. Jelena is here as well and could face either Chakvetadze or Golovin. Henin could face either Hantuchova or Zvonareva. Also here are Pennetta, Morigami, Poutchkova and Morigami. For once I don't think Sharapova has an easy way through the draw. They may have used the seeding from March 5 but the draw looks like it's based on the current rankings.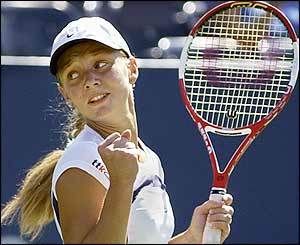 Singles Main Draw - WTA
(1)Maria Sharapova (RUS) v BYE
Yung-Jan Chan (TPE) v Nuria Llagostera Vives (ESP)
Venus Williams (USA) v Yuliana Fedak (UKR)
(29)Maria Kirilenko (RUS) v BYE
Sharapova vs Venus
- If her serving woes continue
Venus
will prevail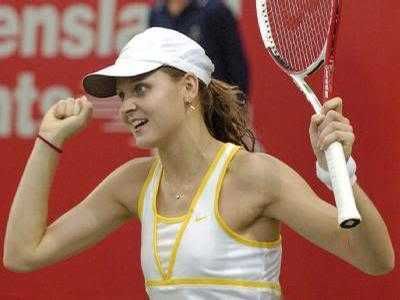 (23)Lucie Safarova (CZE) v BYE
Emilie Loit (FRA) v Sybille Bammer (AUT)
Elena Likhovtseva (RUS) v Q
(13)Serena Williams (USA) v BYE
Safarova vs Serena
-
Serena
(11)Patty Schnyder (SUI) v BYE
Kaia Kanepi (EST) v Tsvetana Pironkova (BUL)
Nicole Pratt (AUS) v Q
(21)Marion Bartoli (FRA) v BYE
Schnyder vs Bartoli
-
Schnyder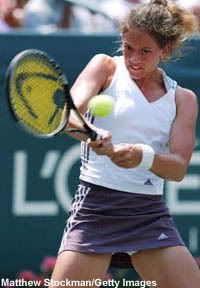 (26)Anabel Medina Garrigues (ESP) v BYE
Eva Birnerova (CZE) v Viktoria Azarenka (BLR)
Michaella Krajicek (NED) v (wc)Anna Tatishvili (GEO)
(8)Nicole Vaidisova (CZE) v BYE
Tatishvili vs Vaidisova
–
Vaidisova
who will come out of this section.
It won't matter who comes out of the other part.
====================
(3)Svetlana Kuznetsova (RUS) v BYE
Aiko Nakamura (JPN) v Q
Jelena Kostanic Tosic (CRO) v Q
(28)Alona Bondarenko (UKR) v BYE
Kuznetsova
may not have a lock here. She just played a final. I just don't see anyone strong enough to beat her unless she beats herself.
Pick 'em
(19)Francesca Schiavone (ITA) v BYE
Eleni Daniilidou (GRE) v Q
Catalina Castano (COL) v Q
(14)Shahar Peer (ISR) v BYE
Should be
Peer vs Schiavone
depending on who the qualifiers are. I like Peer but this is another
pick'em
section.
(12)Ana Ivanovic (SRB) v BYE
(wc)Dominika Cibulkova (SVK) v Q
Ashley Harkleroad (USA) v (wc)Lauren Albanese (USA)
(24)Tathiana Garbin (ITA) v BYE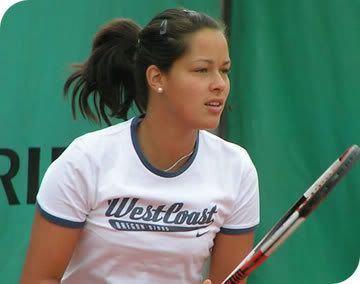 Ivanovic
has had a lot of hype and it's time for her to put up or shut up. She should dominate this section, emphasis on should.
(27)Jie Zheng (CHN) v BYE
Agnieszka Radwanska (POL) v Shenay Perry (USA)
Gisela Dulko (ARG) v Q
(5)Martina Hingis (SUI) v BYE
Hingis will take Dulko. Radwanska should take Perry and have a fight with Zheng. It won't matter.
Hingis
should prevail.
=================================================================
(7)Jelena Jankovic (SRB) v BYE
Elena Vesnina (RUS) v Shuai Peng (CHN)
Jill Craybas (USA) v Roberta Vinci (ITA)
(32)Mara Santangelo (ITA) v BYE
Jelena vs Peng
Craybas vs Santangelo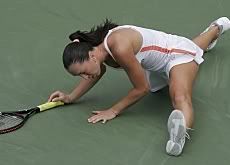 Jelena
(17)Tatiana Golovin (FRA) v BYE
(wc)Iroda Tulyagonova (UZB) v Q
Vasilisa Bardina (RUS) v (wc)Sanja Ancic (CRO)
(9)Anna Chakvetadze (RUS) v BYE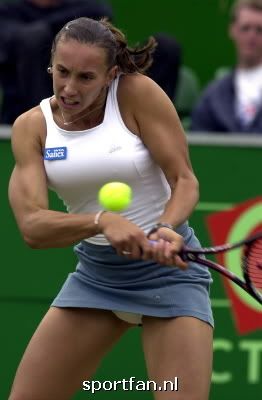 Very interesting part of the draw. I've been reading about Tulyagonova for awhile now and people think highly of her. I don't think she's played much recently. Golovin should win against her. It should be AnnaC vs Tatiana.
Pick 'em
(15)Na Li (CHN) v BYE
Alicia Molik (AUS) v Q
Alina Jidkova (RUS) v (wc)Petra Martic (CRO)
(20)Katarina Srebotnik (SLO) v BYE
Pick 'em
(25)Samantha Stosur (AUS) v BYE
Olga Poutchkova (RUS) v Q
Akiko Morigami (JPN) v (wc)Aleksandra Wozniak (CAN)
(4)Kim Clijsters (BEL) v BYE
I'd like to see Poutchkova over Stosur but I don't think that's going to happen. Clijsters should have an easy time. Stosur vs Clijsters -
Clijsters
should win here.
=============
(6)Nadia Petrova (RUS) v BYE
Camille Pin (FRA) v Nathalie Dechy (FRA)
Aravane Rezai (FRA) v Q
(30)Severine Bremond (FRA) v BYE
If
Petrova
shows up there's no one in this section that can harm her.
(22)Ai Sugiyama (JPN) v BYE
Maria Elena Camerin (ITA) v Anastasia Yakimova (BLR)
Laura Granville (USA) v Lourdes Dominguez Lino (ESP)
(10)Dinara Safina (RUS) v BYE
Pick 'em
(16)Daniela Hantuchova (SVK) v BYE
Meghann Shaughnessy (USA) v (wc)Michelle Larcher De Brito (POR)
Meilen Tu (USA) v Romina Oprandi (ITA)
(18)Vera Zvonareva (RUS) v BYE
Hantuchova vs Zvonareva
–
Pick 'em
(31)Martina Muller (GER) v BYE
Flavia Pennetta (ITA) v Virginie Razzano (FRA)
Vania King (USA) v Tiantian Sun (CHN)
(2)Justine Henin (BEL) v BYE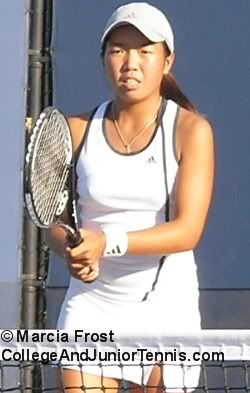 Poor Vania. Even if she gets past Sun she's got Henin waiting for her. Pennetta should be waiting for Henin. A well rested Henin.
Justine.