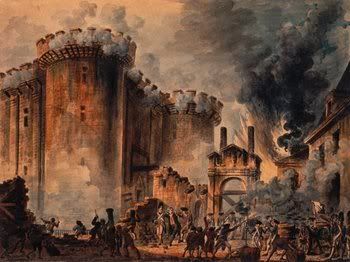 So the player's meeting was last night. According to this link if Etienne de Villiers thought that getting rid of Round Robin play would make for an easy meeting it seems he was sorely mistaken.
Article Here
I don't want to recap the entire article, it's great reading for tennisheads, but here are the main points.
Rafael Nadal and Tommy Robredo led a contingent "waving" a petition in Etienne's face signed by quite a few players . They were upset with the tentative plans of the ATP to eliminate Monte Carlo and Hamburg as TMS events.
Dozens of players walked out of the meeting
. No names of course. That would be too juicy.
There is a split between the clay court players and the hard court specialists. The latter will have none of their TMS events removed from the schedule.
Roger decided it was easier to move to the back than to sit in his seat near the front.
The blogger seems to be toeing the ATP line but the post ends on this note:
Nothing was settled at the meeting, but de Villiers got a major earful. That's something he didn't need a couple weeks after fumbling the round robin problem in Las Vegas. One thing is clear. There's a deep split among the players and de Villiers, who is a strong "people person," has to find a way to bring Robredo and Nadal and their supporters into some kind of compromise with those who either don't care about Monte Carlo and Hamburg or who make their money essentially on the hardcourts.



Another meeting like this could drive a very deep wedge not only between the players and the ATP management, but between players themselves

.

Someone posting as "Castafiore" on
www.menstennisforums.com
made the following observation:
At this point, Halle as an MS event is just a fantasy on tennis message boards.

As the plans are now:
1 on clay
nothing on grass
The rest on HC and carpet.
--> That's not even close to being balanced.

None of the real scheduling issues are really dealt with.
Hamburg comes too close after Rome and is too soon before RG. So getting rid of it makes sense, I guess.
However, if you use that argument, than why keep Cincy and Paris for example? Because of the money?
De Villiers has opened a Pandora's box I'm not sure he knew existed. The European players already feel things are stacked against them. While I am a fan of the US Open series you can't argue that Cincinnati coming right after Canada makes sense. It's bad enough that Indian Wells and Miami are back to back hardcourt tournaments with Miami being dubbed the "Fifth Slam".
I also feel that Hamburg, or the Paris Indoors at the end of the year can be eliminated.
But I think something else is happening here. I really think the powers that be want to institute a grass TMS event. There are enough "purists" in the upper echelons of the tennis establishment who want to see more of a grass season. There are many fans who feel the same way. I'm not sure if it's still a rumor or if its fact that the TMC is moving to London in 2009. That gives London Wimbledon, The TMC and a still minor tune up now called "Artois". The Brits are throwing money around like drunken sailors to upgrade their program and serious offers were make to Novak Djokovic to give up his Serbian passport for a British one. If "Artois" took the place of Hamburg it would make sense. Even I admit that. But who does this favor and why would clay courters react so violently to the proposal.
Before the ESPN fan board collapsed into chaos there had been lots of talk between serious posters about clay vs hard court play and whether one was superior to the other. I felt each required different skill sets from the players and that at that time, and still today, American tennis is not producing players who can play both surfaces well. Clay court play requires that the player know how to construct a point, think his or her way through a match that can last hours and be fit both mentally and physically to go the distance. It's no accident that the matches voted best in 2005 and 2006 both took place on clay in Rome.
Hard court play requires the player to be able to react to a ball coming at him or her at a high speed, to control it and then send it back over the net with accuracy of shot and placement. The points are shorter and don't have to be worked on as hard. I enjoy both but I admit I like the clay better. It's a matter of personal choice nothing more.
For some reason the United States stopped producing players who could play well on clay. Andre Agassi won the French Open. Michael Chang won the French Open. Pete Sampras hated the dirt and made almost no attempt to win Roland Garros let alone the "French Open" series events, Rome and Monte Carlo. The premier tennis academies in the United States were teaching a style of play inimical to clay court play. Those who played the red dirt well were called "dirtballers" or "clay court specialists" and were treated as some lesser species by those who played well on hard courts and the men and women who honed their skills. Wimbledon and the US hard courts were treated as the Mecca of the sport and some called openly for Roland Garros to be demoted from Grand Slam status because American's couldn't win there. Of course that wasn't the stated reason but no one doubted the sentiment behind the requests.
It seems however that those "dirtballers" have been up to something. They're in the top ten in the rankings. They're stars of the sport. They've even reached finals on the hallowed grounds of Wimbledon coming close to winning. Pete Sampras has found it necessary to weigh in on who should be making Wimbledon finals and who should not. Arrogance much Pete?
It makes perfect sense to get rid of Hamburg. It could make sense to upgrade Artois to a TMS event. It makes no sense to get rid of Monte Carlo. If it was left to me Indian Wells would go the way of the dinosaurs. Something has to be done about Cincy and Canada. But to do what the ATP seems to be doing, getting rid of clay events which favor European and South American players and emphasizing the hard courts which favor Americans and the British is not going to make Etienne de Villiers life easier. Instead, as the blogger posted, his moves threaten to destroy the tour so many sacrificed so much to build.
The excuse being used to get rid of Monte Carlo is that it's not a "money maker". I guess I imagined all those empty seats at Indian Wells. The stadiums at Monte Carlo are small. You can actually see and hear the players from any seat. I guess the horrid, cavernous Arthur Ashe stadium is what a tennis stadium should be. Not.
In response to the original article a fan posted the following:

Why the drive to eliminate BOTH Monte Carlo and Hamburg? It seems to me the clay-court players are rightfully upset about a move that will change the balance of the tour pretty drastically.

Right now, there are 5 Hardcourt MS, 3 Clay and 2 Carpet. (I'm counting the Master's Cup as Hard.) 33% of the tournaments are on Clay.

The proposed changes (including moving the MC to London and adding an Asian MS on hardcourt) mean 6 Hardcourt, 1 Clay, 2 Carpet. 11% would be on Clay.

That's an unfair change. Two clay Master's Series events should be the minimum. It is the standard playing surface of most of Europe and South America, after all.
Larry Scott's moves against the WTA have already been labeled "Roadkill". I don't know what to call Etienne de Villiers moves against the ATP. By eliminating Monte Carlo and Hamburg the ATP seems to be telling non American players their skills are not wanted, that their surface of choice is somehow less than other surfaces. I'm not sure that's the message the ATP wants to send in 2007.
I'm sure this isn't over, that this is just the start of things. Let's hope the man some fans call Mr. Disney comes to his senses and listens to people across the pond where most of the players seem to come from these days.
And I do hope I don't have to post this picture again as a symbol of who is running the ATP.