by Savannah
So here's one mans summary of and solution for
Roger Federer's
problems.
OK, so let's play along with this. Federer's back is a mess; the guy can barely get out of bed in the morning. Rafael Nadal is in his head, Novak Djokovic is in his face, and Andy Murray is in his kitchen, stealing the silverware. What's a guy to do? The answer is obvious: take some time off. Go get yourself healthy, clear your head, get rid of that tummy and return with a strong back, fire in your eyes and a good hate on for Nadal, Djokovic and company.
All of this after suggesting that Roger was forced into playing Monte Carlo by Rolex. No proof of course, just a supposition. Here's the
Source
for the rest of the article.
This and That
Tennis Ticker
reports that the ITF has ruled against Australia in it's attempt to move their DC match from Chennai. In a statement regarding the tie set to be played May 8-10 the ITF indicates that their security evaluation shows no pending danger.
Gael Monfils
has withdrawn from Barcelona due to tendonitis in his knees. His countryman
Jo-Wilfried Tsonga
has also withdrawn from the event.
Richard Gasquet
feels his shoulder is well enough for him to play. I read that Gael had tried some non traditional medical approaches to his injuries and may now be the worst for it. Jo-Wilfried has chronic back problems and it's virtually impossible for him to play a full schedule.
In an "oh really" development Belgian
Carl Maes
stepped down as head of women's tennis for the Lawn Tennis Association citing personal reasons.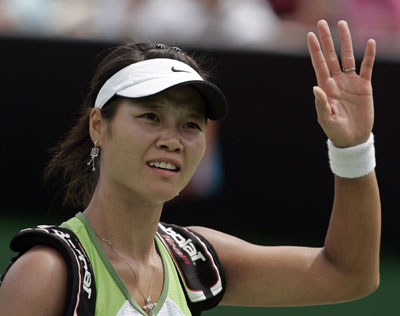 China's outspoken Li Na stated the following in an interview that appeared in the China Daily 04/15/2009 page23
"Just give them (young athletes) the right to choose," Li told China Daily before traveling to Germany to prepare for China's Fed Cup tie and the ensuing clay-court season.

"

If I had an opportunity to choose what I wanted to do in childhood, I wouldn't go for tennis. It is a sport that I was always pushed to do

, first by my parents, then provincial and national sports administrators."
Ms Li has led the fight in China for athletes to keep more of their prize money and appears to have won that right for her peers. Reading this still makes me sad though.
End Notes
Serena Williams and Common at New Years In April: A Fools Fete in New York City 4/16/2009