by Savannah
Upset Saturday
There is no bigger story for week one than that of
Maria Sharapova
, the "Golden Girl" of the WTA going down in flames to eighteen year old
Agniezska Radwanska
of Poland. Despite losing the second set Aggie held her nerve and her serve and managed to force Maria into numerous unforced errors and double faults. Her aggressive challenge to Maria's second serves - at times she was almost on the service line - seemed to rattle the presumed US Open Women's Champion. In the end Maria, seemingly abandoned by her father when it was obvious she would lose, was left on court alone in her misery while Agniezska and her family along with new fans cheered.
I have said it before and I'll say it again. Cupcake draws do not champions make. It seemed as if heaven and hell were moved to make sure everyone who had beaten Maria this year was in the top half of the draw. By the way the top half now looks like a TD's wet dream. Venus. Serena. Justine. Ana. Jelena. Of the women remaining in the bottom half of the draw only
Svetlana Kuznetsova
has ever reached the Final of a Grand Slam. Will Sveta make it again or will it be someone new? I know Larry Scott and his posse did not intend it but the second week is going to be very interesting for the women of the WTA, and for tennis fans.
Donald Young's
run at the Open ended with what I would call a good loss to
Feliciano Lopez
of Spain who won the match in four sets. I hope Donald doesn't fall for the hype and remains satisfied with his growth and on court abilities which are more than promising. Right now I see him having a career like that of
Nikolay Davydenko
, the type of player no one wants to see across the net. He could do worse. Donald has garnered many followers with his play the last few weeks.Here's hoping for a nice, modest 2008 for him.
Shahar Pe'er
and
Nicole Vaidisova
played the best women's night match of the Open so far. It went three sets and rightly ended in a third set tie breaker which Pe'er managed to pull out. It was the type of match that would draw new fans to the sport. The level of play was great and there was no one who could say who the winner would be until the last return was played. Great "thinking" match ladies.
To complete upset Saturday
Hyung-Taik Lee
of Korea, who has had a very nice year thank you very much sent
Andy Murray
home in a four set thriller. He plays Nikolay Davydenko next.
In other news...
The Scandal Contines - More Revelations
As
Nikolay Davydenko
continues to defend himself against match fixing allegations and bad online jokes no one has spoken about the other man who is under investigation.
Martin Vasallo-Arguello
has to my knowledge not been the object of bad puns or serious scrutiny by the press yet his phone records have also been subpoenaed by investigators.
And while this is going on several players have come out and admitted that they've been approached and had the common sense to simply hang up on the callers. Seems the going rate was $50,000.00 USD.
For more on this part of the story read here:
**Source**
The French sports paper
L'Equipe
is also reporting that two other top ATP players have been approached by shady characters about throwing matches.
"Madame"
over at TAT did the translation for me.
Two stars of Tennis, who prefer to stay anonymous, have told the paper they have been contacted, even threatened, by malevolent people wishing to fake matches against large money sums which can reach the 50000$.
Internet and the on-line betting are at the origin of this attempted corruption. Betting on internet is something very hot today and explains the importance of the sums. Not very surprising revelations after the Davydenko story. The Russian, world N° 4, has abandoned on the second of August against the Argentine Martin Vassallo-Arguello in the third round of Sopot, Poland. A very strange drop-out that left most people dubitative.
As for the current number one Roger Federer, he has explained that he has never dealt with this kind of problem.
Tennisticious Blog
Heads Up Ladies!
I'm writing this on the morning of August 30, 2007. Murray vs Bjorkman is on. Jim Courier was commenting on the strategy being employed by AndyM and Jonas and then went on to say that the women players should be watching a match like this and taking notes. Courier said that most of the women simply come out and try to hit winners with no thought for strategy or tactics. Several players come to mind who fit the "mindless ball bashing" definition. Several come to mind who don't. I'm glad someone said it.
8/31/2007
Exhibition Matches vs Grand Slam Matches
So Maria Sharapova continues her exhibition matches while the women in the top half of the draw play the US Open. "Tenpre" on the
ESPN Board
posted the following comments.
Dear Pova

I am sure the sports press is going to say things like "Maria Dazzles the crowd", "Maria favorite to take 2nd USO" and blablabla, never even taking into consideration who you are playing.

The biggest problem I can see for you moving forward is how ready you will be for players from the "A TEAM" (Henins side of the draw). While bageling these cup cakes, you are not getting enough challenges. Playing cup cakes must feel like playing in "SLOW MOTION", and I wonder if you will be ready for the speed coming from any one of the A TEAM.

Has your dad or team ever thought of the possibilities that the BIG BEATINGS you have received at the hands of Serena, Ana, and Venus could be the result of your easy draws??? Being beaten so badly in 3 of the 4 slams plus Miami (the 5th slam) makes you a historical player as this has never happened before to the nr 2 player in the world EVER before in tennis HISTORY.

You will get through your B TEAM draw with flying colors but be ready for ANOTHER BIG BEAT DOWN in the finals against whoever comes out on top of the A TEAM.
Nothing more needs to be said. My friend Allison was in Ashe last night and said that no one came in until it was almost time for Blake/Santoro which turned out to be the match of the tournament so far. She also said that when Pova, not content with hitting to the latest cup cake across the net from her, started to complain about line calls she was roundly booed. I've been watching tennis for a long time. I've seen US Open night crowds up close and personal. I can safely say I have never seen a night crowd so quiet. Even the suits knew Pova's match was not watchable.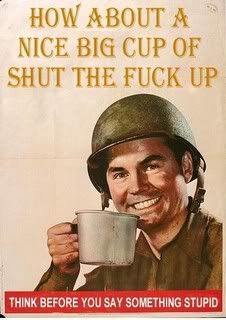 I almost felt sorry for Ted and Tracy who had nothing to do but read IMG talking points to each other trying to pump life into a lifeless match. I did say almost. Ted made a comment last night that if he were a commentator for any other sport would get him banned from the booth.
He said that Santoro's win over then number 10 in the world Gaston Gaudio at the 2006 Australian Open wasn't important. It was left to JMac, who had earlier compared Pova to Nadal in terms of her on court play to call Robinson on that nonsense. As for Pova being comparable to Rafa Pova would make a first round exit if she'd had to face some of the draws Rafa has had to face.
9/1/2007
Tennis Outside the Lines
The NY Times printed a very nice article about tennisheads who play hooky from work in order to catch the early round play at BJK in it's Metro Section on August 31, 2007.
Unlike a lot of other major sports events — the World Series and the Super Bowl, for example — much of the play at the Open, which lasts two weeks, takes place during weekday hours. Yet many New Yorkers, not a lot known for a lax work ethic, manage a day trip to Flushing Meadows in Queens, where they join the tourists, retirees, children and full-time mothers on the stadium grounds.

Mr. Shulkin said that he skipped out on his job on Tuesday, not to mention the day before. "I help a friend with a hedge fund," he said, adding that his line of work gives him a lot of autonomy. He paused to applaud a backspin lob that Mr. Santoro had hit from midcourt, which barely cleared the net then bounced backward onto his own side of the net. Even Mr. Santoro's opponent, finally, cracked a weary smile.

"This kid still doesn't know what hit him," Mr. Shulkin said of Mr. Montanes.

The outer courts at the Open, where lesser-known players contend in earlier rounds, are where you're most likely to find office-deserting tennis fanatics at midday. Another fellow who sat a few rows up in the bleachers at the Santoro match looked the part — worsted trousers, sports jacket slung over shoulder, briefcase — and turned out to have fled a conference at the Grand Hyatt.

"The conference was getting boring," said the man, who added that he was in town from St. Louis. "I look for a reason to get to New York during the Open every year. And I wanted to come today and see the Santoro match. His game is unique."

Mr. Santoro delighted his fans again yesterday. Though he lost his five-set match, against sixth-seeded James Blake, it was hard-fought.

On Wednesday morning, a pair of women in shorts and tank tops sat on the No. 7 train as it ran from Grand Central to Flushing. They were also AWOL, more or less, and they were planning to watch "a friend of a friend of mine from London who's playing Rafael Nadal today," said one of them, Jamie Lewis, 31.

"I sent an e-mail to my boss at midnight, said I'll be out tomorrow and you can reach me on my cell, and turned my computer off. The markets are crazy and I work at a hedge fund, so I thought I'd escape."

Ms. Lewis's friend, who identified herself as Patricia, said she works for an Internet company and added, "I called in sick. Can't you tell?" She held the back of her hand against her forehead."I canceled some meetings."
Fleeing the Office For Tennis
ATP Brave New World
Thanks to strategic leaks the formal announcement of the changes the ATP wants to institute was almost anti-climactic. The only winners in this are the American Tour Directors who want to force the European players to play in the States more often. If they don't play they are penalized. Nice way to foster good will people.
A new American Woman?
Ahsha Rolle
also landed on peoples radar this week making it to the third round before losing to
Dinara Safina
. The only issue with Ahsha is her fitness. Her parents are both big people and there is not much that can be done to counter genetic dispositions. I do think that she should strive to get as fit as she can so that her wins will not be made light of. The USTA high performance program has taken her under their wings so that she should be getting everything she needs to make her a success including diet and nutrition advice. It's not insulting to your parents to slim down Ahsha. It'll make all the time and effort they've put into your tennis education worthwhile. Marion Bartoli is losing the extra weight she put on for a reason.
This and That
Some wits on the ESPN board have declared Maria Sharapova the winner of the

2007 Beat Down Slam

thanks to her losses in Australia, Paris, London and New York as well as in the unofficial Fifth Slam, Miami. What to say? Somehow congratulations seems inappropriate no?
Speaking of the Beat Down Slam I guess this is the time to mention the Brawl in the Booth.
Jim Courier

has joined the chorus of commentators blasting Aggie Radwanska for daring to play tennis against the Pova gil. Shame on you Jim. Aggie wasn't dancing a jig while Maria served. She was employing - dare I say it - strategy. She was thinking on court Jim, something you went on a bit of a rant about earlier in the week if I recall correctly. The person who wasn't thinking on court is the one who lost. I do think it's kind of funny for you to get into a verbal battle with

Tracy Austin

, no favorite of mine by the way, on this issue. I wasn't home to see you storm out of the booth. Sorry I missed that. If the Maria apologists have no argument other than to pile on an eighteen year old who, by the way, has been on tennishead radar for the last couple of years, then their favorite player is in worse shape than previously thought. It's bad enough WWE head honcho Vince McMahon seemed to have set up the women's draw. Do tennis commentators have to resort to WWE tactics in the broadcast booth as well? What next? Someone shows up with Jim Courier's love child? Shame on you Jim.
One cup of STFU for table one please. Thank you.
Richard Gasquet

withdrew from his second round match with a viral infection. What does go on in those locker rooms?
Novak Djokovic

and

Radek Stepanek

played a thrilling five setter. Five sets. You know Mr. Djokovic used some of his infamous tactics to take rests during this match. No howling from Courier, JMac or anyone else who worships at the shrine of Novak though. He's just a breath of fresh air. Uh-huh.




End Note
"Graf_Sampras",
one of my favorite tennis heads, posted this speculation on
All Court Game
Just what is in Roger's manpurse?
little replicas of his trophies?
little Roger dolls?
a make up kit of course
fingernail polish
air freshener
lipstick and gloss
eye shadow
eyebrow pencil , tweezer and comb
hair curlers
hairpins
extra tooth enamel and brightener
pictures of .. u know ... roger
pictures of ....u know... marat and rafa and andy
phone number of ITF ATP officials
designer "vitamins"
mirka's scouting reports
john isner's vital statistics
john isner's plane itinerary , just in case
serena's catsuit seamstress' phone
john isner's favorite snack
Thank you for this G_S!!!