by Savannah
via@WTATennis
She's 35. Older than most active players male or female. The tennis world had pretty much labeled her a sentimental favorite, a woman who could make it to the quarters of majors but not much farther. The mechanics of her serve, so many moving parts they said, were scrutinized every time she put the ball in play.
Wuhan is one of the major WTA tournaments on the Asian Swing that takes place after the US Open - more on that later - and it was widely expected that she would not figure in the final as younger women were expected to take the spotlight and win this point heavy event. It didn't help that she had aggravated both hamstrings and took the court for the final with both upper thighs heavily taped and limping a bit.
Garbiñe Muguruza
, one of the WTA Rising Stars had been playing inspired tennis coming into the semifinal against
Angelique Kerber
. It seemed that new coach Sam Sumyk had a willing and able student and that he was poised to win a WTA P5 after being dismissed by WTA darling
Eugenie Bouchard
.
I was surprised at how well Muguruza was playing and thought Venus would be pressed really hard in the final. Instead it was Venus who dominated the Final. There were no visible signs of her ankle injury from Muguruza during the short match but she looked exhausted and frustrated when she retired down 0-3 in the second set while Venus calmly chatted with her coach David Witt. Sumyk looked ready to explode. The Muguruza who showed up for the Wuhan Final is the one I saw at the US Open, unable to think clearly on court without a lot of guidance.
The most amazing thing about all of this is Venus has a chance to make the YEC in Singapore.
Yes she's one of many but who saw this possibility at the beginning of the year? Congratulations to Ms Venus Williams.
Speaking of
Eugenie Bouchard
she's now working with Thomas Hogstedt. Yes that Hogstedt. The one who dumped Li Na via newspaper article (or email)for
Maria Sharapova
who then dumped him, then worked for a hot minute with
Caroline Wozniacki
saying he didn't want to travel so much anymore when he stopped working with her. Yet there he is in Beijing working with Bouchard.
In an article posted on
Eh Tennis Yahoo
the following is reported:
When we reported just before the US Open that experienced coach Thomas Hogstedt was in the mix for a tryout with top Canadian Genie Bouchard, we were told that while he was keen and ready to come on board, Bouchard and her team had reservations.

Those reservations seemed to have abated and Hogstedt is indeed by Bouchard's side, as she (hopefully) prepares for a return Monday in Beijing, China against Andrea Petkovic.

(...)

As well, he has the Sharapova stamp of approval, in a sense – which is no small thing in the Bouchard camp. We're told that before she began working full-time with Saviano to begin the 2014 season, Team Bouchard had approached (Michael)Joyce, who also had passed the Sharapova test and worked with her a long time, first as a hitting partner when her father Yuri was her coach, then as coach when Yuri stepped aside.

The thing was that Joyce had a good deal with young player Jessica Pegula, who was going through knee surgery and recovery and was out of the game for an extended period. Understandably, he wasn't going to give that up (Pegula's family owns the Buffalo Bills and Sabres, so you can imagine he was well taken care of ) without some sort of guarantee. And that guarantee wasn't forthcoming.
So if you've worked with Pova you're the person for Bouchard. Interesting that the article points out the financial benefits of Michael Joyce coaching Jessica Pegula and not the financial wherewithal of the Bouchard family.
Bouchard skipped Wuhan due to the lingering effects of her concussion but it looks as if she will play in Beijing. A lot of eyes will be on her.
The Post US Open Schedule - WTA Style
Let's see. In two days of play in Beijing five players retired:
Simona Halep
,
Coco Vandeweghe
,
Lesia Tsurenko
,
Alja Tomljanovic
and
Zarina Diyas
.
You can argue that back to back to back tournaments is asking a lot of players, especially the elite, but there is also the fact that if Halep hadn't shown up in Beijing she would've lost $300,000 in bonus money. I don't think the other women who retired had to worry about that though.
Should be Asian swing come right after the Oz Open? The players, even though coming off a Grand Slam tournament, would be fresher. I don't know how the weather is in China that time of year though.
I think the back to back events take a toll because it's the end of the year. Players have been playing with injuries all year that by now have become nagging and annoying. Not to mention being brain fried.
Caroline Wozniacki
said that the WTA forces injured players to play and was ridiculed by some. Retirements by the likes of Vendeweghe, Tsurenko, Tomljanovic and Diyas don't make much difference to tournament directors. Halep retiring makes a big difference.
There is already speculation about what the YEC will look like if the top six women in the world aren't able to play.
I don't think that'll happen but it's a valid observation at this point.
The WTA YEC
Here is the leader board:
RTS Player Current Total Points Replaced Adjusted RTS Total
1 Simona Halep 5840 60 5780
2 Maria Sharapova 4322 1 4321
3 Garbiñe Muguruza 3512 1 3511
4 Petra Kvitova 3482 1 3481
5 Lucie Safarova 3222 1 3221
6 Angelique Kerber 3220 105 3115
7 Flavia Pennetta 3034 1 3033
8 Venus Williams 2972 0 2972
9 Karolina Pliskova 3040 100 2940
10 Carla Suárez Navarro 3010 100 2910
11 Agnieszka Radwanska 2955 100 2855
12 Belinda Bencic 2865 30 2835
13 Roberta Vinci 2565 30 2535
Lucie Safarova
is out. Maria Sharapova's participation is anyone's guess due to her injury. Muguruza is suffering from injury.
Petra Kvitova
looked terrible losing to Sara Errani in Beijing committing 49 unforced errors. Then there's this quote from Simona Halep: "I hope I can play. I will see - I need treatment and a break, for sure." posted by @tennis_photos. Those fans talking about players ranked 7-14 playing the YEC may be on to something.
End Notes
There have been a lot of posts on #TennisTwitter about Player X "saving" Tournament Y. What does that even mean? Does it mean that the level of tennis outside of the elite is crap? Garbiñe Muguruza, now a top four player, has only one title to her name this year, Hobart way back in January. You can believe me or not, but the drop in the level of tennis that will come after 2016 is going to be quick and ugly.
Bernard Tomic
, who saw charges against him dropped after a set to in Miami was photographed partying with Sydney business man Joe Elias on his yacht. Google Joe Elias of Sydney, Australia. It's an interesting read.
The ATP has made it clear it expects
Andy Murray
to play at their WTF year end tournament. He's also expected to carry the weight for his country in Davis Cup.
Victoria Azarenka
shows her tongue still has a life of its own. This statement was made after her last tournament: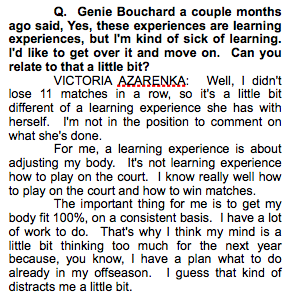 I'm sure that endeared her to many people within the WTA.
The Young'uns
The young players I picked to watch this 2015,
Madison Keys
and
Alexander Zverev
have not, in my opinion, shown much maturity in their games. Keys still gets brain freeze when her game isn't working and Zverev has been taking too many wild cards instead of refining his game in the tennis equivalent of the minor leagues.
The one player who does seem to be making the most of his age and using the Challenger circuit to his advantage is
Chung Hyeon
. You know he's on the right track when there are haters already saying he wouldn't be ranked so high if he hadn't vultured so many Challenger events. Yeah, he's doing the right thing.
Meanwhile Canada has got it's hype machine in overdrive over fifteen year old Félix Auger-Aliassime. Get back to me in three years people.
They're also hyping Charlotte Robillard-Millette, sixteen (born in 1999). I guess they don't think you're ever too young for the hype machine.
Richard Gasquet
, who was hyped as the future of French tennis at 9, should write a book. So should
Donald Young
.
©Savannah's World 2015 All Rights Reserved unless otherwise indicated