by Savannah
WTA
As the eight women who will play in the YEC at Madrid are being finalized the women's Main Tour came down to the event at Linz, Austria. The year that had begun so promising for some ended with a fizzle, and questions about what the new season will bring. More on that in a later post.

Updated Race List: 10/28/2007
1 HENIN, JUSTINE BEL 4975.00
2 JANKOVIC, JELENA SRB 4096.00
3 KUZNETSOVA, SVETLANA RUS 3581.00
4 IVANOVIC, ANA SRB 3162.00
5 WILLIAMS, SERENA USA 2767.00
6 CHAKVETADZE, ANNA RUS 2628.00
--WILLIAMS, VENUS USA 2470.00 (Withdrawn!)
7 HANTUCHOVA, DANIELA SVK 2431.00
8 SHARAPOVA, MARIA RUS 2431.00
----------------------------------
----------------------------------
9 BARTOLI, MARION FRA 2224.00
10 DEMENTIEVA, ELENA RUS 2023.00
11 VAIDISOVA, NICOLE CZE 1886.00 (Quebec R1 +1) 140=2026
Hantuchova needs one more win to make the cut. I'm typing this on Sunday morning and she has already won Linz, her first Main Tour win outside of Indian Wells.With Venus withdrawal both
Maria Sharapova
and Daniela are in.
There will be no controversy about who will be the WTA Player of the Year. After a difficult personal start to the year
Justine Henin
has pushed herself to the top of the heap. Like her or not, question her tactics or not she is the top player and got there by beating the best the WTA has to offer.
Despite injuries both
Venus Williams
and
Serena Williams
have made the YEC, something no one predicted without an asterisk next to their names.
Breaking news is that Venus has withdrawn but if she is not fit to play – that image of her holding her groin area in Thailand stays with me – then this is the best thing to do.
Ana Ivanovic
has played well but has shown nerves when on the big stage.
Anna Chakvetadze
has been in a free fall since she qualified for the YEC. This young woman was my biggest surprise this year. Many tennisheads were raving about her last year but I couldn't see it. I do now which is why it was so disappointing that she didn't do well during the post US Open season. I hope she comes into Madrid rested and ready to show why she is there.
I know many fans are surprised that
Maria Sharapova
managed to win only one event this year, and that it wasn't a Grand Slam. On again off again shoulder woes are said to be the problem. I will state up front that I am no fan of Maria but I did expect her to manage at least one Slam. It will be interesting to see what happens next year.
Svetlana Kuznetsova
surprises by being in the top three. She was number two for awhile. Her play this year did not get her there. She played a lot and went deep in some events. I did see one match where she played brilliant tennis. One. She has it in her. Not sure if she thinks she does.
Jelena Jankovic
of course played more than anyone else this year hence her number two ranking. She seemed to have conquered her demons and played good tennis. That was until she had a meltdown against Lindsay Davenport in Bali that rivaled the one she had against Henin at the 2006 US Open. Like Serena Jelena hates to practice. Memo to Jelena. You need to get over it. Practice. Those jokes about you playing a $10k in Nigeria on your off days during an event are getting stale.
Other WTA News
Maria Sharapova is pitching a show to an American network about – well if you have to ask you really don't know do you? Okay, tennis. The writers of some of the biggest hits on television have been recruited to work on this series which is not bound for a major US network, CBS, NBC or ABC or one of the big cable outlets like HBO or Showtime. This is being pitched to the CW network, a smaller outfit that seems to have as it's target audience 18-20 something young women. I'm of the opinion anything that presents tennis in a good light is welcome. I'm sure the image meisters at IMG and the CW feel they'll lock up their target demographic with Maria "I Feel Pretty" Sharapova's involvement. So far she's not supposed to appear in the show but "consult" for it.
Just my very humble opinion but if your aim is to have a tennis star, a female tennis star, consult for your show then why pick a Russian national? I do remember a few very good female players residing in the United States.
Chris Evert
is still alive and breathing last I checked. So is naturalized American
Martina Navratilova
.
Zina Garrison
anyone? Our Fed Cup captain? Chrissie may be in the cougar category age wise but she was on the tour from a young age. Why do we need a Russian citizen to tell an American audience of any demographic what it's like for women on the tour? I know, Maria is considered American by her Russian peers but she still makes noise about playing Fed Cup for Mother Russia. I'll get off my soapbox now.
The semi annual
Jelena Dokic
is back in Australia bulletins have been posted. So much potential seemingly going to waste.
Alexandra Stevenson
and
Angela Haynes
both played qualies for the Bell Challenger in Quebec City. Both women went out in the first round. Unheralded
Racquel Kops-Jones
along with
Abigail Spears
and
Mary Gambale
made the second round of qualifying playing for the United States.
ATP
What a strange, strange week this was. There were three events for the men with the Paris Bercy Masters event starting on Sunday. To their credit the level of tennis was pretty good despite some guys obviously deciding that it was time to hit the road to Paris from Lyon, Basel or St Petersburg and bowing out of their events gracefully.
There was that incident in St Petersburg that got a lot of attention though. You know, the one where
Nikolay Davydenko
was given a code violation and then fined by the ATP for being a slacker and not putting out enough effort during his match against
Marin Cilic
who turned around and lost to
Fernando Verdasco.
Davy won the first set easily then seemed to forget what to do on a tennis court in losing the second set. After the chair ump, a new guy from Belgium, asked him if he needed medical attention and then said Davy was tanking the third set an obviously upset Davydenko lost the third set 6-1. It's easy to dog Nikolay out for what happened in Poland but when this match was over he cried. We fans love to think we know everything about the men, and women who play tennis. We never can and we don't. We are looking on from afar and assuming what pressures or lack thereof they play with. Last I checked there were two men playing that match, not one. I think we all need to back off and let the ATP come up with a good story – sorry I mean finish its investigation.
Guillermo Coria
attempted a return at a Challenger event in Brazil. It hurts to see someone want to play so badly and be unable to do so.
The top half of the Bercy draw looks like murderers row to some fans. They're saying the bottom half is a cake walk. I don't think so. Guys like Wawrinka have been playing very well of late. The Bercy organizers have offered beaucoup bucks for the top dogs to show up. Let's see if there are any last minute withdrawals.
Andy Roddick got mucho static for withdrawing from Bercy for no apparent reason other than that he didn't want to play. No injury report (serious tennis fans know a lot of these are fake but humor us dude. Knee? Ankle? Groin? Mal de tete? Don't just give us the "because I can" excuse.
The ATP has launched a new ad campaign called "Feel It". I felt it. The doctor prescribed Maalox.
By the way that is Roger's back. This is the car he had at his disposal this week.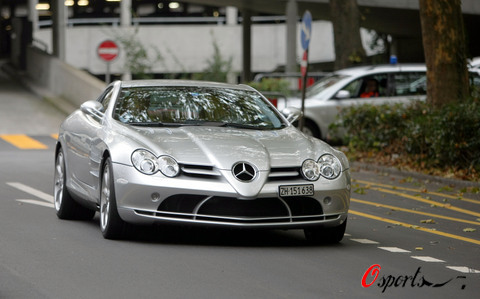 TMC Shanghai
Two positions remain open. This is how it looks so far.
Singles:
1. Federer, Roger SUI
2. Nadal, Rafael ESP
3. Djokovic, Novak SRB
4. Davydenko, Nikolay RUS
5. Roddick, Andy USA
6. TBA
7. TBA
8. TBA
Alternates
1. TBA
2. TBA
Doubles:
1. Bryan, Bob/Bryan, Mike USA
2. Knowles, Mark BAH/Nestor, Daniel CAN
3. Paul Hanley AUS/Kevin Ullyett ZIM
4. TBA
5. TBA
6. TBA
7. TBA
(WC) Simon Aspelin SWE/Julian Knowle AUT
Alternates
1. TBA
2. TBA
As mentioned above Andy Roddick has pulled out of Bercy which means he will be coming into Shanghai cold. Unless he plans to withdraw. He does have the yeoman's task of probably having to win all of his Davis Cup singles matches for the US to win. We'll see.
Pictures of the Week
Ernests Gulbis during his match agains Nico Massu at St Petersburg
Guillermo Coria after retiring from his match at Belo Horizonte in Brazil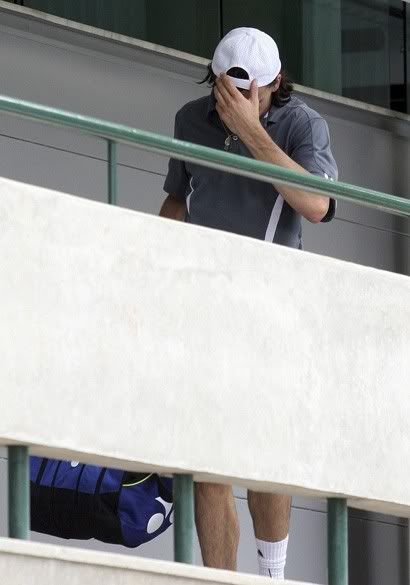 Steffi Graf and Andre Agassi at their exo 10/27/2007 in Mannheim Germany
Goran Ivanesivic, Justine Henin, Steffi Graf and Andre Agassi at the same exho
Rafael Nadal and Sergio Garcia of Spain at the Pro-Am round of the Mallorca Classic golf tournament in Son Servera October 24, 2007.
From the ATP Feel It Campaign